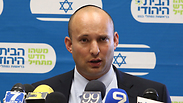 Naftali Bennett
Photo: Gil Yochanon
Bayit Yehudi leader Naftali Bennett spoke to Ynet Wednesday announcing that his party would soon begin leading what he described as a struggle against the job he says is encouraged by Palestinian President Mahmoud Abbas - the job of terrorism, complete with a hefty government paycheck for those sitting in Israeli prisons.

"Killing Jews and kidnapping children is a subsidized job," said Bennett as security forces continue searching for three Israeli teens apparently abducted by Palestinians nearly two weeks ago.

"Abu Mazen (Abbas) actively encourages terror with the paycheck he gives to Palestinian terrorists and whoever finances terrorists is a terrorist. This outrageous payment, up to 12 shekels per month, from the Palestinian Authority to terrorists must be stopped immediately. This payment method (rewards) those who kill more by giving them more money."

Related stories:

Bennett said that this situation creates a reality in which those who kidnap children on their way home from school know that they have nothing to lose. "At the end of the path the PA is waiting with a warm hug and a good paycheck. The doctrine is simple: Abu Mazen condemns the abduction (of course), but encourages the abduction on the other hand by handing out money to terrorists."

In the coming days, Bennett said that he plans on fighting to, "stop this perverse phenomenon. True, it's 'problematic' legally. There are 'many aspects' to this that raise 'legal roadblocks' to stop payment to this funding of terror. But I don't know any issue that's less legal than encouraging terrorism with money."
There's also "pension"
According to figures compiled by Bayit Yehudi, a convicted terrorist serving up to 10 years in prison earns NIS 4,000 per month, while those serving 10-15 years receive NIS 6,000 per month. Between 25-30 years warrants 10,000 per month, and the most serious criminals who are sentenced to more than 30 years get NIS 12,000 per month.

In addition, every Palestinian in jail receives NIS 400 for personal expenditures twice per year. Those who are married get extra payments and even more beyond that goes to those with children.

"How much are these subsidies worth?" asked Bennett. "These thousands of terrorists receive paychecks higher than the monthly paycheck of a Palestinian police officer who earns on average only NIS 2,700."

What's more, according to Bennett, some 4,000 released prisoners have continued receiving paychecks after being released. A "subsidized job" comes complete with pension says Bennett.

"In this way even Ziad Awad, the murderer of Baruch Mizrachi who was released in the Shalit deal, received a monthly pay check from the PA after his first arrest. Then he was released and got the paycheck of a released terrorist and now his conditions are being upgraded in Abu Mazen's subsidized job. In other words, he killed a Jew and went back to prison."

Bennett said that the financing comes from governments, in Europe and elsewhere, who close their eyes and allow their money to take round-about paths to the terrorists through the PA and the PLO.

By taking action vs. the prime minister and other MKs, Bennett says that he will make public what he called the story of the terrorist. "After I get five years, I'll be earning a paycheck of about NIS 4,000 which will continue for three years. That means I'll have NIS 135,000 which I can use to cover my debts," said Bennett mimicking a Palestinian prisoner.
"Financial blow to the empty stomach of terror"
All together, according to the Bayit Yehudi figures, some NIS 44 million is paid out to terrorists every month. "At the moment that money is sitting in bank accounts belonging to the Palestinian Ministry of Prisoner Affairs. They'll pay the terrorists at the end or beginning of the month - during next weekend."

"My suggestion is to catch and grab these bank accounts in advance - at the beginning of next week," said Bennett. How exactly? The money, according to Bennett, is taken from the taxes that Israel collects on Palestinians and passes to the PA every month.

Bennett says that steps he will initiate are meant to have significance on a few different levels. According to him this includes, "a strong financial blow to the empty stomach of terror that will be felt by every terrorist in jail and in every family outside, especially before Ramadan."