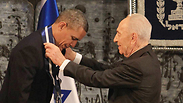 Peres awarding Obama a presidential medal, March 2013
Photo: Gil Yohanan
American lawmakers were to honor President Shimon Peres on Thursday with the Congressional Gold Medal, as part of Peres' last state visit to the United States before ending his presidential term next month.
Peres was also to address both Houses of Congress on Thursday, in a final honor for a leader with strong international popularity. He was to visit both New York and Washington on his six-day trip, and also planned to meet with UN Secretary-General Ban Ki-Moon.
On Wednesday, he met with US President Barack Obama at the White House, during which Obama told Peres that our hearts are with the families of the kidnapped boys and with the State of Israel."
Related stories:
This is not Peres' first honor from the US government, with Obama bestowing on him the Presidential Medal of Freedom in June 2012. In turn. Peres presented Obama with the President's Medal of Distinction during his visit to Israel in March of last year.
Before his departure for the US on Tuesday, Peres pledged to raise the issue of jailed Israeli spy Jonathan Pollard with Obama. Israeli leaders have consistently petitioned their American counterparts for Pollard's release, with little success,