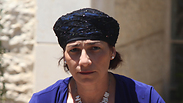 Bat Galim Shaer
Photo: Motti Kimchi
Bat Galim Shaer, mother to Gil-Ad, said on Wednesday that she was surprised to hear about the agreement the Israel Prisoners Service signed with the Palestinian detainees that led to suspension of the hunger strike.
Speaking at a meeting at the Knesset between MKs and the mothers of the three kidnapped teens who returned from Geneva on Wednesday, Bat Galim said: "I woke up this morning, turned on the news and I pinched myself. The prime minister is prepared to sign a deal with the security prisoners. Is it true? Could it be?"
Related stories:
"Gil-Ad, Naftali and Eyal are living in a hiding-place, held by 'sons of Belial' – and the prime minister seeks to appease them?," Bat Galim asked critically. "If the prime minister knows who the kidnappers are, he should take any kind of action to press them to return the boys alive: stop transfer of funds, worsen the conditions for inmates, and put pressure on the Palestinian Authority, so that Hamas would understand that it doesn't pay off to kidnap children."
Gil-Ad's mother continued her critique, saying: "The Ramadan is coming up, how is it possible that our nation is living in a state of uncertainty, while the Palestinian people erupt in celebrations? It can't be that the people of Israel live in insecurity while the Palestinian people live routine lives. Mr. Prime Minister, Public Security Minister, you got mixed up. An agreement with the hunger strikers is a big mistake."
During the meeting, attended by 20 MKs, including Bayit Yehudi leader Naftali Bennett, Uri Ariel and Meir Cohen, the mother of Eyal, Iris Cohen, burst into tears and said: "Hannah's prayer reads 'Hannah was praying in her heart, and her lips were moving but her voice was not heard', and later on it is said that 'Eli thought she was drunk.' Hannah was praying for her child. My son Eyal disappeared 13 days ago, and I, like a drunken person – like Hannah – am beside myself."
"My heart frets, worries, is destroyed. The daily routine gets broken up. My soul is overwhelmed with concern for the safety of Eyal, Gil-Ad and Naftali…I love my son Eyal and I want him to come back home."