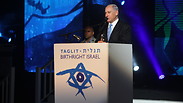 Prime Minister Benjamin Netanyahu makes speech at Taglit event
Photo: Tazpit
Taglit-Birthright Israel has passed a significant milestone with the designation of the program's 400,000th participant: Ryan Hunter, 20, a student from Syosset, NY (Long Island). By reaching this milestone, Taglit-Birthright Israel turns a corner and has now provided a free heritage trip to half of the young Jewish adults who are eligible every year.

Hunter plays Division 1 Lacrosse at Ohio State University in Columbus, Ohio and is the group captain for the 'Amazing Israel Lacrosse' Taglit-Birthright Israel special interest group tour. He and approximately 40 other top collegiate athletes will travel through Israel experiencing the full 10-day program. During the visit, Hunter and the other athletes will also teach lacrosse to young Israeli athletes, while training and competing in exhibition games against the Israel men's and women's national teams.

Related stories:

Hunter, a communications student at Ohio State Univeristy, was inspired to apply to Birthright Israel when his older sister returned from her trip with a restored faith in Judaism.

"Ryan was chosen for this honor because he embodies the Taglit-Birthright Israel applicant," said Taglit-Birthright Israel CEO Gidi Mark. "He represents the best and brightest of the future of the Jewish people, and is someone who might not have chosen to connect with Israel had it not been for Taglit-Birthright Israel."

Prime Minister Benjamin Netanyahu personally greeted Hunter at a Birthright Israel Mega Event, which brought together 3,200 participants from 60 bus tours for an evening of culture. The celebration of Zionism included comments from Netanyahu, and leading philanthropists, Dr. Miriam and Sheldon Adelson.

Taglit-Birthright Israel also welcomed its 70,000th Israeli participant to the Mifgash ("Encounter") program, in which 8-10 Israeli students and soldiers join the tour buses to establish life-long global friendships with Jewish peers.

"We have reached a remarkable milestone in our ongoing mission for worldwide Jewish continuity," said Gidi Mark. "Our 400,000 participants represent a strong and active bond between Israel and the Diaspora; and Taglit-Birthright Israel will continue to provide hundreds of thousands of young Jews with an opportunity to explore Israel - the heart of Jewish culture, history and its people, so that they may rediscover and create a personal bond with their faith and global community."

Taglit-Birthright Israel offers the gift of a free, 10-day trip to Israel for Jewish adults between the ages of 18 to 26. The trip aims to strengthen each participant's identity as a Jew; to build an understanding, friendship and lasting bond with the land and people of Israel; and to reinforce the solidarity of the Jewish people worldwide.

Taglit-Birthright Israel has sent 400,000 young Jewish adults to Israel from more than 66 countries and from all 50 US states, including students from nearly 1,000 North American college campuses.

Attendees are immersed in an active educational experience, which includes three main areas: the narratives of the Jewish people, contemporary Israel, and the formative values of Judaism. The trip includes visits to Jewish historical sites, history museums, Holocaust remembrance sites, the Western Wall, arts and culture programs as well as touring, hiking, discussions, social events, camel and jeep rides in the desert, and more.

The Taglit-Birthright Israel program is sponsored by partnerships with thousands of individual donors and private philanthropists, Jewish communities around the world through the Jewish Federations of North America, Keren Hayesod, the Jewish Agency of Israel as well as Government of Israel.

"It is our hope that participants, like Ryan, see the Birthright Israel experience as a springboard for a life-long connection with their heritage," added Mark.

Reprinted with permission from the Tazpit News Agency.