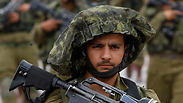 IDF search efforts
Photo: Reuters
IDF forces continued Operation Brother's Keeper Wednesday night with the arrest of 10 additional Palestinians in the Hebron area. A Palestinian who tried to flee from security forces was wounded and taken to the hospital.

Meanwhile, a hitherto unknown terrorist organization claimed responsibility for the kidnapping of the three Israeli teens in the West Bank two weeks that led to the IDF operation; this is the third such group to do so.

The search operation conducted to find Eyal Yifrach, Gil-ad Shaer and Naftali Frenkel has also seen a massive crackdown on Hamas and its non-profit organizations.




According to the army, the 10 Palestinians were arrested on suspicion of taking part in terrorist activities, and signifies a continued drop in the number of detentions from previous days. Some 17 Palestinians were arrested overnight Tuesday, down from 37 the day before, an IDF spokesperson said Wednesday, indicating search efforts could be winding down.

Meanwhile in Ramallah, another Palestinian died of his wounds after taking part in clashes with Israeli security forces last week. Five Palestinians have been killed since the beginning of Operation Brother's Keeper.
Hezbollah pesence
Palestinian media sources reported Thursday that an unknown organization called "Regiments of Hezbollah" had claimed responsibility for the kidnapping of the missing teens, though it was unclear how credible the claim might be. The group is now the third to have claimed responsibility for the kidnapping; the previous two claims are considered to be illegitimate.

The group reportedly cited the 2008 killing of Hezbollah commander Imad Mughniyah as motivation for the attack.

The latest detentions bring to 381 the number of Palestinians arrested since the three teens disappeared from a hitchhiking post in the southern West Bank.

Of that number, 282 are allied to the Hamas movement, an IDF spokesperson told AFP. He said soldiers had searched 1,955 locations and raided 64 Hamas institutions. An additional 136 structures were searched Wednesday night.
Escalate out of control
A senior United Nations official cautioned Monday that the IDF action risked provoking a revolt, while Palestinians in the West Bank have turned on Abbas for offering to help Israel find those behind the kidnapping.

With the Muslim holy month of Ramadan set to start on Saturday, a government official in Jerusalem said members of Prime Minister Benjamin Netanyahu's security cabinet had expressed concern that events could "escalate out of control".

Growing international criticism about the impact on ordinary Palestinians has also been taken into account, he said.

"Following this, a decision was made to significantly narrow the operation and focus it on pinpoint actions to return the abductees," said the official, who declined to be named.

"We are continuing intelligence and operational efforts to bring about the release of the abductees and to get our hands on the kidnappers. That hasn't changed at all," Defense Minister Moshe Ya'alon told reporters.

But, acknowledging the number of arrests had dropped sharply over the past day, he said "a large part of the operation" against Hamas had been completed now that dozens of activists were in custody and many of its institutions were closed.

AFP and Reuters contributed to this report