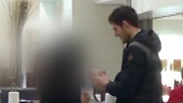 Dead Sea products in New Zealand
Israeli salesmen were escorted from New Zealand's Lynnmall shopping center and asked not to come back with their stand of Dead Sea cosmetic products after convincing an 82-year-old woman to empty her bank account to buy $5,000 worth of anti-wrinkle cream, Auckland's News3 reported on Wednesday.

The elderly woman, who told News3 that she'd rather not be identified, apparently spent the large sum of money on two separate occasions when Israeli sales staff kept her after the shopping center's closing hours and even escorted her to an ATM to withdraw more money.

"I feel as if I'm a silly old chook," the woman told News3. "Honestly, at my age spending all that money on that product is ridiculous."

The incident sparked concern over possibly aggressive and manipulative marketing strategies used by young Israeli sales staff who can be found in many shopping centers in New Zealand, Australia, South Africa, Canada, the US and other countries.

Israelis who find themselves to be successful sellers generally enjoy the experience as an opportunity to travel and make money, which many use to pay for higher education or fund later travels.

Roger, the son of the elderly woman, wasn't convinced of the Israelis' good intentions. "I'm sure they can spot people a mile off," he told News3 after the second time in as many weeks that he found his mother's bank account empty thanks to the Dead Sea stand.

"They know if they keep talking and using their sales patter on the right sort of people they can wear them down and keep selling to them until the well is dry," Roger told the media outlet.

The woman also disapproved, in hindsight, of the salesman's tactics. "He would say 'you're such a lovely lady. I'll give you this for free, extra,'" she told News3, though she also said that the Israeli was a "lovely guy" who gave her hugs.

The News3 report also suggested that prices on products were based only on how much the salesman thought a potential buyer might be convinced to pay. "There are no prices on anything," the report said.

The woman's money was refunded and an apology issued, but the mall's owners, the Kiwi Income Property Trust, told News3 that Dead Sea salesmen would not be allowed to set up shop again at Lynnmall.

This is not the first time that such stories have emerged; a report Thursday claimed that a man suffering from short-term memory loss was charged 12 times for a total amount of $13,000 by an Israeli saleswoman who media called "attractive".

The man, Robert, told News3 that he had undergone surgery that had affected his memory. Just minutes after charging his credit card, he would forget that he had bought anything. When his card was maxed out, the saleswoman suggested that he go to the bank to withdraw more money.

The New Zealand news agency also reported that a man suffering from autism had been sold $4,000 worth of products in just 30 minutes at a Dead Sea products stand.