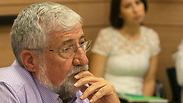 Hatnua MK Amram Mitzna
Photo: Ohad Zwigenberg
Hatnua MK Amram Mitzna slammed his coalition partners from the Bayit Yehudi party on Thursday.
In an interview with Israel Radio Mitzna said that "If you take Hamas without the terror activity - that I of course completely oppose - then there is an organization that operates with similar objectives to those of Hamas right within the Israeli government."
Mitzna went on to wonder "whether the prime minister, who demands the Palestinians and Hamas to recognize the three principles of the Quartet - recognizing Israel, an end to terror and of course recognizing all previously signed accords - makes the same demand of Bayit Yehudi? Recognizing a Palestinian state?
"Have we heard Bayit Yehudi say that? Have we heard Bayit Yehudi say that it recognizes accords previously signed by the Israeli government, like Oslo and others?"
Related stories:
Hatnua: Habayit Hayehudi preaches sedition
Naftali Bennett calls to sieze funds used to pay Palestinian terrorists
Bayit Yehudi: Harsh incitement
Deputy Education Minister Avi Wurtzman of the Bayit Yehudi party called Mitzna's comments "harsh incitement" and said he expected an apology from Hatnua's leader, Justice Minister Tzipi Livni.

"Mitzna has made very serious comments, and I don't think that the most insignificant party in the coalition can lecture us. Mitzna crossed the line with his vulgar behavior and I expect him to apologize. Need I remind Mitzna that only yesterday the cabinet has decided to cancel funds given by the PA to Palestinian security prisoners in Israel? We go to work after being released from the army, while they give paychecks to murderers.

"A comparison to a terror organization is insulting, but not to us - to Amram Mitzna. Instead of making comparisons let's make efforts to bring back the three boys that were abducted by Hamas – a party that is a member of the Palestinian government," said Wurtzman.

Prime Minister Benjamin Netanyahu strongly condemned Mitzna's comments: "Different opinions are acceptable in the Knesset, but the arguments must maintain clear boundaries of truth and decency - Mitzna's comments crossed both of them," said Netanyahu.