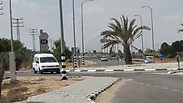 The area the terrorist infiltrated to
Photo: Roee Idan
The OC Southern Command has decided on Thursday to dismiss the deputy company commander of a desert patrol battalion give a citation to the battalion commander after an armed terrorist was able to infiltrate from Gaza into Israel unnoticed earlier this week.

The terrorist was eventually caught in an area between the communities of Yated and Sdei Abraham in the north-western Negev by a local guard.

The IDF Southern Commad considers the incident as very grave. While no one was hurt in the incident, senior officials at the Southern Command said they viewed this incident "as if the terrorist threw a grenade at a bus full of children."

The terrorist crossed the border from the Gaza Strip into Israel at around 4:30 am on Sunday, and continued walking unnoticed and uninterrupted for five kilometers while armed with a hand grenade.

The terrorist went unidentified and unnoticed despite the fact troops in the Gaza border area were on high alert following the increase in rocket fire from the Strip and the escalation of violence.

The IDF's investigation found that a unit from the battalion was sent to the border when lookouts alerted they detected signs someone had touched the fence. However, the unit was sent to the wrong section of the fence.

The investigation also found that the terrorist climbed the border fence, but did not cut it, as previous terrorists have done.

This is the second time in the past year and a half that an armed terrorist infiltrates Israel from the Strip into the same inhabited area near Kerem Shalom, and is identified and stopped by civilians rather than the army.

Senior IDF officials said the terrorist was likely not a part of an organized terror infrastructure, or sent by one of the terror organizations, and added that his true intentions remain unclear.

Following the investigation, headed by OC Southern Command Maj.-Gen. Shlomo (Sami) Turgeman, it was decided that the infantry battalion's commander will receive a citation in his personal file, the company's commander will be disciplined and his promotion postponed, while the deputy company commander and the battalion's deputy assistant chief of staff for operations will both be dismissed.

In addition to that, the sergeants in the battalion's operations room, the patrol scout and the lookouts will all face disciplinary hearings.