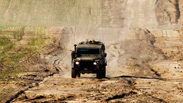 An explosive device detonated near the security fence in the southern Gaza Strip. There were no casualties. A military vehicle operating in the area was lightly damaged.

IDF tanks returned fire on suspicious positions across the fence and the site of the incident was isolated by Israeli forces which were deployed to search the area.

Since the kidnapping of the three teenagers from the West Bank two weeks ago, and the ensuing Operation Brother's Keeper to return the boys, Israel has seen a marked escalation on the southern front.

Related stories:

Four rockets were launched towards Israel from Gaza on Tuesday; one rocket exploded in a barn in the Sdot Negev Regional Council.

Two additional rockets, fired towards the Hof Ashkelon Regional Council, were intercepted by the Iron Dome missile defense battery. Four hours after the rocket fire, IDF forces attacked several targets in the Gaza Strip.

Another rocket launched towards Hof Ashkelon Regional Council misfired and exploded on a house in Beit Lahia, in the northern part of the Strip, killing a three-year-old girl. Palestinian medical sources reported that four of her family members were also injured in the failed attack.

Over 20 rockets have been fired at Israel since Operation Brother's Keeper to find Eyal Yifrach, Gil-Ad Shaer and Naftali Frenkel began; and over 200 have been fired since the beginning of the year.

At the beginning of the week, a terrorist armed with a hand grenade was arrested after infiltrating into Israel from Gaza Strip.

He was caught in an area between the communities of Yated and Sdei Abraham in the north-western Negev on Sunday by a local guard. IDF forces that were dispatched to the area arrested him and took him in for questioning. No injuries were reported in the incident.