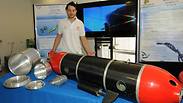 The eager students and their projects are all over campus – some with posters, some with models, and some with prototypes.

"This system works in conjunction with your air conditioning system," Idan Admon, a student in electrical engineering, told The Media Line enthusiastically as the vents of an air conditioner followed him as he moved. "How many times have you left the air conditioner on and left the room? This system identifies when someone comes into the room and starts the air conditioning. It follows the person as he moves around the room, and as soon as he leaves, the system turns itself off."

If you get cold, he says, just raise your hand and the system will turn itself off. It also remembers your preferences from the last time you visited.

Admon said he and his partner worked on the idea, his graduation project at Ben Gurion University, for a year. During the Innovation Day, where students display their projects, he has had several investors who are interested in helping him begin a start-up.

"I'm open to all ideas," he said with a smile, saying that the system shouldn't cost more than $100 to buy. "And think how much money you'll save!"

There were more than 500 projects on display here, the creative results of graduating students in engineering and computer science. Most of the students are in their mid-20's, having started college only after finishing their three year compulsory army service at the age of 18.

Sharona Farkash, also an electrical engineering student, has come up with a project using light to detect breast cancer.

"It's at the range of the visible light and the infrared which is the non-harmful radiation so that's the benefit," Farkash told The Media Line. "We tried to show that it is possible using our suggested model to use this method to detect a tumor inside the breast."

Also at Innovation Day were representatives from international companies as well as the Israeli venture capital fund, Jerusalem Venture Partners (JVP).

"It's always an interesting challenge to take an academic project and to turn it into a profitable thriving business opportunity," Gadi Tirosh, a managing partner of JVP told The Media Line. "That's something we did in JVP for many years. Many of the companies that we've created are based on strong technology that came from Israeli universities, or the defense market. Over the years, we grew those companies to be significant, and we sold them for hundreds of millions of dollars."

The southern city of Beersheva, the "capital of the Negev desert," is shaping up to be the next high-tech center in Israel. A new high-tech park includes large firms such as IBM, Microsoft and Deutche Telekon. Several Israeli army bases are soon making the move to the south as well, including the large Intelligence Unit 8200.

Yet of the hundreds of ideas presented at this Innovation Day, most will never make it to market.

"Many of these great ideas don't tend to see the light of day," Rick Kaplan, the General Manager of IBM in Israel told The Media Line. "I think it has to do with people's ability to build management systems around their good ideas. It's also important to get the right mentors early on to help them build the right business plan going forward."

IBM, along with Microsoft and other large international companies have built "accelerators" -- programs to teach entrepreneurial skills and help start-ups get off the ground.

"We are now opening a new accelerator class," Amir Pinhasi, a principal at Microsoft Ventures told The Media Line. "We start with customer development, go to product development and in the last third it's pitching and financing strategy. We're now looking for projects in the field of cyber-security."

More than 200 teams have already completed the four-month program, and 85 percent of them received outside funding for an average of $1.2 million. According to the research firm IVC, between 2003 and 2012, 772 start-ups were acquired for $41.6 billion. In 2013, Google bought the Israeli navigation app Waze for more than $1 billion.

Back at Ben Gurion University, the students say they'd be happy with much less than that. As they enthusiastically describe their projects, each of them hopes that in just a few years, their project will become commercial – and successful.

Article written by Linda Gradstein.

Reprinted with permission from The Media Line.