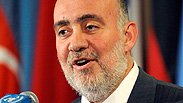 Israel's UN Ambassador Ron Prosor
Photo: AP
The UN Security Council on Thursday rejected another attempt of Arab and Muslim countries to condemn Israel's military operation in the West Bank to find the abducted Israeli teenagers.

A petition from a coalition of Iran, Saudi Arabia, Kuwait and Qatar was raised during a closed discussion of the UN Security Council.

This is the second time in the past few days that an Arab attempt to condemn Israel at the Security Council fails.

Since the Security Council meeting was closed to the press, the two sides held press conferences.

Related stories:

Palestinian UN observer Riyad Mansour was joined by UN representatives from Saudi Arabia, Iran, Qatar, Senegal and the League of Arab States.

"These acts should not go without any strong reaction from the Security Council, They are grave violations of human rights and international humanitarian law," said Qatar's representative, Sheikha Alya Bint Ahmed Bin Saif al Thani, urging the Security Council to act against Israel.

Israel's Ambassador to the UN, Ron Prosor, was bewildered that "Rather than denouncing this appalling attack, the Arab nations have the audacity to stand before you today and criticize Israel."

"Even after Palestinian (Authority) President (Mahmoud) Abbas condemned the kidnapping, the Palestinian representative did not have the courage and dignity to denounce an attack on three schoolboys," he added.

"Today the lecture was brought to you by the UN's odd couple - Iran and Saudi Arabia. Back home they are fighting a proxy war in Syria, but here at the UN - love is in the air... Unbelievable! The only thing they have in common - both are cradles of terrorism and radicalism in the Middle East," he said, reminding the UN that "one created Hezbollah and the other created al-Qaeda."

"Both of these countries have the audacity to stand here and accuse Israel of human rights violations. Well, they really need a good look in the mirror," he continued.

Prosor didn't spare the other countries who spoke against Israel.

"The Qataris quietly spread hate-filled messages and venom. Well, let's put Qatar under the microscope. Qatar treats its foreign workers like slaves, and still lectures others on human rights. They also spend billions of petrol dollars funding extremist fighters in Syria and murderous Hamas terrorists, yet they have the audacity to tell the world that Israel shouldn't fight terrorism," he said.

He went on to say that "Saudi and Kuwait are always calling for human rights, unless it of course means advancing women's rights."