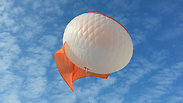 Hawk Eye in the sky
Photo: Courtesy of Shilat
The Hawk Eye aerostat tactical observation unit was the first technological tool in the IDF's impressive kit to transmit visuals from the air back to forces on the ground in Hebron in the hours after Gil-Ad Shaer, Naftali Frenkel, and Eyal Yifrach were kidnapped.

Since the teens were abducted two weeks ago, GOC Central Command was reinforced with three additional observation balloons from other sectors – mainly the Gaza Strip and the Lebanon border.

Every ground operation conducted during day light by Kfir Brigade soldiers, or during the night raids of the special units, is accompanied and observed by the soldiers of the Combat Intelligence Collection Corps' 636th Nitzan Battalion, special ambush teams on the ground, or balloons from above.

"Every area of operation, whether residential or in the wadis, is searched from above beforehand. We analyze the field, identify suspicious movements, and direct the soldiers. It's how we prevent an armed terrorist from coming down from a hilltop and firing at soldiers operating in a wadi, a well, or a spring," said Captain Guy, commander of an observation unit in the Judea territorial brigade.

Watch Hawk Eye footage of IDF operations (in Hebrew):

Hawk Eye assists IDF operations in Hebron (צילום: אלי מנדלבאום)

"North of Hebron, we have already scanned 30 caves," he added.

The floating eyes in the sky are connected directly to a jeep on the ground, allowing them unlimited uptime – the Hawk Eye is most threatened by weather conditions, which have so far been favorable for the IDF searchers.

The unit enables the soldiers on the ground to identify a target from up to 5 km away while safe in their jeep. The camera sends a high-resolution feed that clearly identifies license plates, clothes, and even faces.

The soldiers searching the West Bank hills for the kidnapped boys over the past day were aided by information from the Combat Intelligence Collection Corps when they raided chop shops. The units also received assistance from local civilian experts more familiar with the area of operations in the wadis north of Hebron.

The wells and watering holes that have been searched and cleared have been marked "scanned" with the date by the soldiers combing the hills and wadis of the West bank.

"We have been on the ground non-stop since the day of the kidnapping. Once every three days we go out up the base to shower and come right back," said Second Lieutenant Or Eliyahu, a platoon leader.