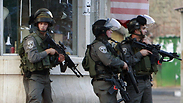 Soldiers in West Bank operations
Photo: AP
Hundreds of Umm al-Fahm locals took to the streets Friday to protest the actions of the IDF in Opertation Brother's Keeper over the last two weeks.

Security forces were sent to the area including some 400 riot police in order to keep the peace. Protestors threw rocks at the police who responded with stun grenades which dispersed a part crowd that had gathered on highway 65.

Video: Idan Bakar (צלם: עידו בקר)

The crowd reconvened however, in the main street at the center of Umm al-Fahm where they continued to protest.

Five were lightly wounded at during the protest and were taken for medical care at a local clinic. Police officials reported that the protest had not been authorized by the court.

The municipality of Umm al-Fahm stated that they were against the protest. "The organizers actually approached us to join them... but we refused."





MK Mohammad Barakeh took part in the protests as did a member of the High Committee of Israeli Arabs Raja Aghbariya.

Aghbariya said to Ynet, "This protest is against administrative detention and against the attack in the West Bank that began after the abduction of the three teens. What's happening in the West Bank is terrible and leads to war. We demand the end of all of these unjustified actions by the IDF."

Hundreds of West Bank Palestinians have been arrested and several have been killed as part of the operation, though the main goal of the IDF has been to find and recover three Israeli teens who were apparently kidnapped two weeks ago.

Israeli officials blame Hamas as responsible for the attack and the arrested Palestinians were reportedly member of Hamas or had some suspected connection to the kidnapping.