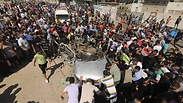 IAF assassination in Gaza
Photo: Reuters
The Israeli Air Force attacked four terror targets in the Gaza Strip overnight Friday in response to rocket fire into Israeli territory on Friday evening.

IAF aircrafts struck two terror activity sites, a weapon manufacturing site in the central Gaza Strip and a weapons storage site in the southern Gaza Strip, the IDF said. Direct hits were confirmed on all targets.

Tensions were high Friday evening as six rockets were fired into from Gaza into Israeli territory and a mortar shell exploded near the border fence between Gaza and Israel. Two of the rockets fired were shot down by the Iron Dome anti missile system while the other four fell in open areas in the Eshkol Regional Council.

No damage or injuries were reported as a result of the rockets or mortar fire, but the incidents concluded a full day of clashes between Israeli security forces and Palestinian elements.

Just hours before the rocket attacks from Gaza, the IAF launched an attack on a civilian vehicle killing Muhammad al-Fasih, 24, from Gaza City, and Usama al-Hassumi, 29, from Beit Lahia in the northern Gaza Strip.

Related stories:

Both were senior members of Al-Nasser Salah al-Din Brigades, the military wing of the Popular Resistance Committees and supposedly connected to an increase in rocket attacks over the last two weeks since the IDF began Operation Brother's Keeper searching for three abducted Israeli teens in the West Bank.

More than 20 rockets have been fired from Gaza since the operation began.

Defense Minister Moshe Ya'alon said one of the terrorists "has in recent days been responsible to rocket launching at southern Israel, and was planning additional terror attacks against the citizens of Israel."

"We don't intend to ignore any fire at Israel or any attempt to hurt our citizens and the IDF's soldiers. We will chase after, and strike with a heavy hand, anyone who hurts or plans to hurt us, as we have done today," he added, warning that Israel "views Hamas as responsible for anything that happens in the Gaza Strip, and it mustn't test our patience or resolve."

Earlier in the morning a military vehicle was lightly damaged by an explosive device near the Gazan border fence. IDF tanks responded with fire on suspected militant positions.

Protests in Umm al-Fahm also brought clashes between police and Palestinians Friday as several hundred took to the streets against IDF actions in the West Bank.