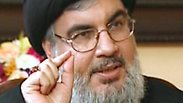 Hezbollah leader Hassan Nasrallah
Photo: AFP
WASHINGTON - The US House Foreign Affairs Committee is completing legislation that would put intensified financial pressure on Hezbollah. The Hezbollah International Financing Prevention Act of 2014 will prevent the Lebanon-based Shia terrorist group from receiving financing through international institutions.
The bill, introduced by US representatives Mark Meadows and Brad Schneider will force international institutions to choose between conducting business with Hezbollah or the United States.
Related stories:
Hezbollah is already defined as a terrorist organization by US law, and American institutions are not permitted to engage in business with the organization. However, the new legislation would prohibit international institutions from entering into financial dealings with the organization, including in Lebanon itself.
According to the law, the institutions that will continue doing business with the organization will be blacklisted and will have heavy sanctions imposed on them. Four years ago, a similar law was passed that formed the basis for the global financial sanctions that caused severe damage to Iran's economy and led to a sharp devaluation of the local currency.
The new version of the bill that targets Hezbollah was presented for the first time several months ago and is now in the final stages for approval.
The legislation introduced by US lawmakers determines that Hezbollah poses a direct threat to the security of the United States and Israel, taking into consideration the fact that the organization killed more Americans than any other terrorist organization, apart from al-Qaeda.
In addition, it was noted that the organization dominates Lebanon's government, fought on behalf of the Assad regime in Syrian and is in possession of more than 100,000 rockets.
The American move may also influence a similar step on the part of the European Union, which already classifies the military wing of Hamas as a terrorist organization.
The United States controls a major part of the global financial market and such legislation will significantly damage Hezbollah's ability to operate worldwide. Today, the organization holds money in banks in Europe and Latin America.
The Committee Chairman Ed Royce said, "The threat posed by Hezbollah's global operations has exploded. Underpinning that development is a financing and logistical network. In 2011, we saw the tip of the iceberg when a massive Hezbollah drug and money laundering operation was uncovered.
"To deter dealings with Hezbollah, the bill targets those financial institutions that knowingly do business with what has been called the "A-team" of terrorists."