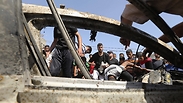 The car hit by IAF
Photo: Reuters
Security cameras located in the al-Shati refugee camp in the Gaza Strip documented the targeted assassination by the Israeli Air Force on Friday that killed two Palestinian terrorists.

The two, both senior members of Al-Nasser Salah al-Din Brigades, the military wing of the Popular Resistance Committees, were killed while driving in a civilian vehicle near Hamas leader Ismail Haniyeh's home.

Footage of targeted assassination in the Gaza Strip ( )

The defense establishment said that the two – Muhammad al-Fasih and Usama al-Hassumi – had been involved in rocket launchings into Israel in recent weeks.

Related stories:

The IDF said that in addition to the rocket fire, the two also planned terrorist attacks in recent days against Israelis. Over 20 rockets have been fired at Israel since Operation Brother's Keeper to find Eyal Yifrach, Gil-Ad Shaer and Naftali Frenkel began; and over 200 have been fired since the beginning of the year.

Since the kidnapping of the three teenagers from the West Bank two weeks ago, and the ensuing Operation Brother's Keeper to return the boys, Israel has seen a marked escalation on the southern front.

Hours after the IAF carried out the targeted assassination on Friday, Gaza militants fired rockets into southern communities in Israel, with no injuries reported.

Six rockets were fired into from Gaza into Israeli territory and a mortar shell exploded near the border fence between Gaza and Israel. Two of the rockets fired were shot down by the Iron Dome anti missile system while the other four fell in open areas in the Eshkol Regional Council.

In response to the rocket fire, the Israeli Air Force attacked four terror targets in the Gaza Strip overnight Friday.

IAF aircrafts struck two terror activity sites, a weapon manufacturing site in the central Gaza Strip and a weapons storage site in the southern Gaza Strip, the IDF said. Direct hits were confirmed on all targets.

The assassination in Gaza was carried out after an explosive device detonated near the security fence in the southern Gaza Strip on Friday morning. There were no casualties. A military vehicle operating in the area was lightly damaged.

IDF tanks returned fire on suspicious positions across the fence and the site of the incident was isolated by Israeli forces which were deployed to search the area.