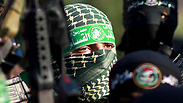 Izz ad-Din al-Qassam Brigades
Photo: EPA
Even after Israel published the names of two Hamas terrorists who are said to be the main suspects in the abduction of Gil-Ad Shaer, Naftali Frenkel and Eyal Yifrach, Hamas leaders continued denying the allegations they have any information about the abduction. As part of an Israeli hasbara campaign, trying to get the world's attention and support, Israel released information about Hamas' support of the abduction and its motives.
In 2010, the Palestinian Information Center, which is run by Hamas, published the book "Resistance – A View from the Inside" by Mohammed Arman, one of Hamas' leaders, who was sentenced to 36 life sentences in Israel.
The book deals with the abduction of Israelis as a means to securing the release of Palestinian prisoners from Israeli prison, and claims that if the abduction is carefully planned, there wouldn't be a problem to keep a hostage for a long period of time in the West Bank area. According to Arman, the kidnappers should be "dormant" Hamas agents that were groomed from an early and haven't been exposed to Palestinian collaborators with Israel.
Related stories:
According to the Israeli hasbara abroad, Arman also provides elaborate instructions as to who is the ideal hostage and what kind of preparations should be made beforehand. According to the book, a Jewish soldier of Ashkenazi descent whose parents are alive and is married with children is an ideal target.
The hideout should be prepared before the abduction - preferably underground, away from populated areas or in a neighborhood where the residents are not perceived suspicious by Israel.
Arman, who was involved in the deadly attacks in Café Moment and the Hebrew University in Jerusalem, among others, has so far not stood to gain from abductions, as Israel refused to release him as part of the Shalit prisoner swap, because of the severity of his acts and the danger he poses to the Israeli public.
In addition to the book, Hamas published a manual by the name of "The Kidnapper's Guide to Abduction". According to Israeli hasbara, it's a new version of the organization's manual from 2002 for the members of the Izz ad-Din al-Qassam Brigades, Hamas' military wing.
Dr. Adnan Abu Amer wrote about the guide, detailing the recommendations to the abductors.
The Israeli embassy in New Zealand, that distributed these recommendations to the local media, said that among other things, Hamas suggested that the kidnappers learn to speak Hebrew fluently, abduct a physically weak soldier and immediately replace the vehicle used in the kidnapping.