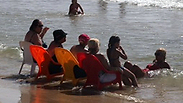 Heat Wave in Israel
Photo: Motti Kimchi
From Kiryat Shmona in the North to Eilat in the South, an extreme heat wave has taken over Israel on Saturday. Israelis broke all records of electricity consumption in June as temperatures climbed over 40 degrees Celsius. The relief, however, would be gradual, meaning the beginning of next week was expected to continue being very hot.
The Israel Electric Corporation reported that the electricity consumption stood at 9,180 mega-watts on Saturday noon, and that it might increase during the evening hours.
Related stories:
Weatherman Yuval Sender said that the heavy heat wave will continue into Sunday.
"Temperatures in the coastal region are lower than in other regions of the country, but the humidity is very high which makes the heat heavier. Tomorrow (Sunday) there will be a slight temperature drop, but the heat wave will continue in most areas. On Monday, another drop of temperature was expected, but the temperatures were expected to remain relatively high," Sender said.
Dr. Baruch Ziv, a climatology researcher from the Open University, said that the seasonal peak temperature for June is 47 degrees Celsius in Eilat and on Saturday the tempratures almost broke the record with 46 degrees Celsius. He added that temperatures in the Jordan Valley could reach 50 degrees Celsius.
"This type of heat wave is typical for the beginning of the summer and it is called a subsidence heat wave which causes the temperatures to rise up to 10 degrees Celsius on average. The result is 35-50 degrees Celsius," he said.
Dr. Ziv added that "the good news was that relief from the heat was on its way, but the bad news was that this type of heat wave starts and ends gradually, therefore tomorrow (Sunday) is still going to be very hot and we would probably not feel any relief due to the slight drop of temperature. During the next week the temperatures will continue to drop gradually, but it still going to stay above average for the season."