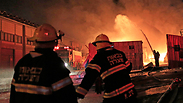 Sderot factory on fire after being hit by Gaza rocket
Photo: AP
The Israeli Air Force attacked terror targets in the Gaza Strip in two seperate overnight attacks in response to four rockets fired at southern Israel earlier in the night, one of which hit a factory that caught fire.
In the second airstrike, IAF aircrafts struck two weapons manufacturing sites in northern and central Gaza, a terror activity site in central Gaza, three rocket-launching pads and three terror activity sites in southern Gaza. Direct hits were confirmed on all targets.
Explosion inside Sderot factory hit by rocket (צילום: רועי עידן)
Earlier Saturday night, the IAF attacked three hidden rocket launchers in the central Gaza Strip on Saturday night. One of the rockets fired into Israel hit a factory in the Sderot industrial area on Saturday, causing it to catch on fire and burned to the ground.
Four people were wounded in the barrage of rockets: a 23-year-old man and a 59-year-old man that were inside the factory when the rocket hit were taken to the Barzilai Medical Center in Ashkelon suffering from light burns.
Another 50-year-old man was also evacuated to the hospital after suffering from blast injuries due to tripping while running to a protected space. Another man also sustained blast injuries.
The military wing of the Popular Resistance Committees took responsibility for the rocket fire, saying it was a response to the IAF's targeted killing of two of its operatives on Friday.
More than 30 rockets were fired from the Gaza Strip at Israel since the beginning of Operation Brother's Keeper to find three Israeli teenagers who have been abducted some two weeks ago. 24 of them fell inside Israel, out of which 11 were fired over the weekend. The Iron Dome missile defense system intercepted seven of the rockets.