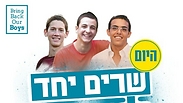 A massive rally was held in Tel Aviv's Rabin Square on Sunday evening in solidarity with Israel's kidnapped teens Eyal Yifrach, Gil-Ad Shaer and Naftali Frenkel, and their families. The mothers of the missing boys spoke before a crowd of tens of thousands as did President-elect Reuven Rivlin.
"We appreciate the head of the Palestinian Authority and the Mayor of Hebron who both transcended this conflict and called for the immediate liberation of the boys," said Rachel Frenkel, mother of Naftali.
"This is an assembly of love, of unity," she continued. "Somewhere out there, there are three teenagers who know there is no way we let go, there's no chance someone gives up (on them). The love we feel here - gives them strength there."
Frenkel spoke of the tour the families went on in Hebron earlier Sunday, "we saw soldiers with red eyes who haven't been home in a long time. We went to thank them, and they said, 'why are you thanking me? This is what we joined the army for.'"
Iris, Eyal Yifrach's mother, spoke to her son from the stage at Rabin Square: "The people of Israel are giving you love back, the entire nation came together, they're all worried about you. We want you back already, waiting to embrace you with warmth."
Turning to the tens of thousands of people at the rally, she added: "It's very touching to see the entire nation united, all sectors of it, in this not-easy time we're going through. We'll embrace each other and give each other strength and pray together for the quick return of Eyal, Gil-Ad and Naftali."
She also thanked IDF soldiers and the security forces "who work day and night, giving their best and sticking to the mission to bring back the boys. I pray to God that thanks to this great unity, we will be aided in our hour of need and get to see our boys - Eyal, Gil-Ad and Naftali - here with us, safe and sound."
Gil-Ad's mother, Bat Galim Shaer, also spoke to her son: "There's an entire nation here with us that is waiting for you, wishing your safe return home. People in Israel and all over the world have come together for your return and when you come back you'll find that our family has expanded greatly - you have brothers and sisters all over Israel and the world."
Shaer said the unity reminded her of the same unity that was in Israel when an Air France plane with 248 passengers aboard was hijacked, and Israel went on Operation Entebbe to free them.
"Yesterday it was Entebbe, today it's Gush Etzion. The places change, but the togetherness remains. We are brothers, and brothers don't rest until their little brother returns to them," she added, praying that all IDF soldiers searching for the boys return home safely.
"We're not here for a situation assessment or for investigations. We're here to pray in all languages and in the name of all religions," President-elect Reuven Rivlin said. "Our prayer tonight is not just Jewish or Israel, we are saying a prayer for mankind, it is a prayer of a mother about her son, of a father about his child.
"This is the prayer of the angel who dares stand up even to God and cry out - do not lay a hand on the boy! We stand here tonight together and call to anyone who has a human heart beating in him - do not lay your hands on the boys," Rivlin went on to say.
"The kidnapping of boys and teens cannot be considered an act of bravery in any time, place, religion or language. Not just here in Israel, but in Syria, Iraq, Sudan and Nigeria," he added.
Participants at the rally wore T-Shirts that said "Together, Until Your Return" and waved signs saying "Partners in Prayer," "Children will return to their own land," "Supporting the families."
Prime Minister Benjamin Netanyahu also spoke of the rally at his speech at the INSS think tank: "Not far from here there's a support rally for the kidnapped teens. I instructed the chief of staff and the head of the Shin Bet to not spare any effort to bring the boys back and I hope we succeed in our mission.
"This incident is a part of a much wider phenomenon, a historic change that will have consequences for the entire region. The Sykes-Picot agreement has been upheld throughout the years, but when regimes started to crumble, all of the conquered demons come out. The hope that liberal movements take over in Arab states has disappeared. We're looking at many years of instability and struggles, but in the long term, extreme Islam will fall because it won't allows for individual liberties."
This is the first event organized by the "Bring Back Our Boys" Campaign – that coordinates with the families, but is not sanctioned by them.
Well-known singers performed at the rally, among them Miri Mesika, Rami Kleinstein, Svika Pick and Lior Narkis.