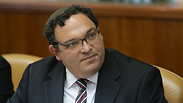 Yesh Atid minister Shai Piron
Photo: Alex Kolomoisky
Education Minister Rabbi Shai Piron defended his support for the LGBT community, after sparking public backlash with remarks he made on single-sex parents during an interview with a religious newspaper.

The Yesh Atid minister told Ynet on Sunday that the has voted for every bill that supported the LGBT community, but clarified that "I am also an Orthodox rabbi, I will not force religious Jews to recognize same-sex couples as a family."

Last week Piron was asked by Arutz Sheva's weekly paper B'Sheva if he agreed with his faction leading a secular legislative line, listing the party's achievements on LGBT legislation.

"I think it is the right of a Jewish state, maybe even its obligation, to tell single-sex couples pursuing that lifestyle – that's not family," said Piron.

Related stories:

The LGBT community was irate at the minister's comments, as were social activists and fellow legislators who called for his resignation. Members of Knesset, teachers, principals, and same-sex families are expected to protest Piron at the Knesset on Monday.

"I would be happy to talk with every person calling for my resignation in the belief that together we can promote tolerance in Israel and advance the rights of every community in the State of Israel," the Yesh Atid minister told Ynet.

"I am convinced that if those same people calling for my resignation talked to me, they would understand that I am the most appropriate partner for enabling a liberal and democratic life in Israel."

When asked about the Knesset protest, Piron said: "I would be happy to meet these people face to face. Where an apology is required, I will apologize. Where clarification is needed, I will clarify."
'Not my role to define family'
In the interview with the free weekly B'Sheva, Piron claimed there was a need to distinguish matters relating to the relationship between religion and state and matters relating to human rights.

"Take for example civil unions. Maybe we should change the name to 'civil partnerships' or a phrase that would refrain from using the words couple or family."

But on Sunday the Yesh Atid minister tried to calm the controversy. "As education minister I have a responsibility that every child raised in every type of family could lead an optimal life. It is not my role at this time to define what constitutes a family."

Piron claimed that he supported every measure brought in front of the Knesset to promote the LGBT community.

"It is a fact that I voted for the surrogacy law, for tax credits for single-sex couples; I raised the budget for the Israel Gay Youth movement – which was unprecedented – and I was one of those who supported civil unions."

But the embattled minister did not refute his controversial remarks, saying "I am also a rabbi, and as one there is a distinction between what I call a Halachic family and a civil family."

Piron explained: "On the civil question, I would do everything in my power to allow every person who considers themselves a family to live their life, but the ideological definition I hold as a rabbi in Israel, as a man with an obligation to religious discourse, I am truly attempting to reconcile between my person Halachic position and my role as education minister."

The minister said he regretted any offense he caused the LGBT community. "God forbid that I hurt someone and caused a situation in which they felt uncomfortable because of my remarks. For this alone – if there is a child, parents, or LGBT family that was offended by this – my hearts breaks."

Piron told Ynet that he spoke with Yeshi Atid chairman, Finance Minister Yair Lapid, after his remarks stirred up controversy. "We have the same stance on a fundamental level. "