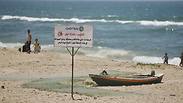 'Swimming is prohibited' sign
Photo: Reuters
GAZA - When Palestinians in the Gaza Strip seek some relief from the grind of life in an enclave plagued by conflict and hardship, they usually need to look no further than their sandy beaches.
But this summer, access to the cooling waters of the Mediterranean is gradually being closed off to Gaza's 1.8 million residents, due to pollution stemming from fuel shortages that have halted work at sewage treatment facilities.
Baha al-Agha of the Gaza Environment Quality Authority said about 100,000 cubic metres of untreated waste water are being pumped into the Gaza shore daily.
Related stories:
"Swimming is prohibited" signs have gone up at several beaches. But at one of Gaza's most popular beaches, dozens of people, including children, splashed in the water over the weekend despite the posted warning.
"Things are getting worse day by day in the absence of real and quick solutions," Agha told Reuters. He called on the Palestinian unity government formed earlier this month to act immediately "before Gaza beaches are declared a disaster area".
Egypt's closure of most of the estimated 1,200 cross-border smuggling tunnels run by Islamist group Hamas has virtually stopped cheap Egyptian fuel coming into Gaza.
Egypt's military-backed government fear the tunnels are used to take weapons into the Sinai Peninsula, and accuses Hamas of backing the Egyptian Muslim Brotherhood. Hamas denies it helps militants in Egypt.
Israel has its own blockade on Gaza, allowing in fuel and restricted imports since Hamas took control in 2007. But the Israeli fuel costs twice as much as Egyptian imports.
Garbage piling up
Gaza residents said they had little to celebrate at the start on Sunday of the Muslim month of Ramadan - traditionally a time for worship but also for family feasts in the evening at the end of a daily daytime fast.
Garbage has been piling up on the streets, with some 75 percent of sanitation trucks idled by the Gaza municipality's inability to pay high fuel prices.
"Tunnels are closed, crossings are closed, there is no sea port ... and now they are telling us the beaches are closed? Wouldn't it be easier if they just let us die in peace?" asked Ali Abu Hassan, a 46-year-old taxi driver.
Driving along Gaza's coastal road, the smell of sewage is sharp and waves hitting the beach are yellowish and brown.
Many in the Gaza Strip are also feeling the pinch of a salary dispute that could test the resilience of the new unity government formed under Hamas's reconciliation pact with Western-backed President Mahmoud Abbas.
Some 40,000 public servants hired by Hamas since it seized the Gaza Strip seven years ago from forces loyal to Abbas have not been paid in full for months due to a cash crunch caused by Egypt's tunnel crackdown.
Hopes of receiving wages quickly under the unity government were dashed when the new administration said it must first vet the employees before paying them - a process that could take months.
Hamas-hired workers, who held a one-day strike on Thursday, are particularly resentful that Abbas's Palestinian Authority has been paying its Gaza-based staff regularly, even though they have not reported to work since 2007.