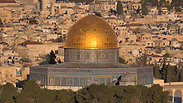 The Cabinet approved a NIS 300 Million Socio-Economic Development Plan for Eastern Jerusalem Sunday, laying out a program drafted by Prime Minister Benjamin Netanyahu that, according to a press release, focuses on decreasing violence in the area by providing improved infrastructure, security, job opportunities, and education facilities.

The plan is apparently the result of "comprehensive discussions" between the Director of the Prime Minister's Office Harel Locker, Cabinet Secretary Avichai Mendelblit, and Mayor of Jerusalem Nir Barkat, which were initiated to decide how to counter an "increase in incidents of violence and stone-throwing in the area."

According to the Cabinet, there were some 390 incidents of stone-throwing in eastern Jerusalem just from March-April in 2014 but police projections say that the new project could reduce violence by as much as 50%.

Related stories:

Economic Minister Naftali Bennett was also named as having played a key role in presenting the plan which will "emphasize the advancement of children and young people in the 10-35 age bracket," taking into consideration that, "young people are easily influenced and are more inclined to take part in violent, nationalist or other activities."

"Investing in the younger population has the potential to serve as an impetus for change," read the Cabinet statement.

According to the Cabinet, infrastructure work will center on key areas such as sewage, water, electricity and roads while educational initiatives would provide, "higher education and vocational training including pre-academic classes" that would increase qualification within the population for jobs important to societal advancement.

The teaching of Hebrew would be increased in East Jerusalem school under the plan and a portion of the funds would go towards job creation, but the cabinet was unclear what steps will be taken to meet this goal. Instead they stressed the current difficulties east Jerusalem residents have in completing school and finding their way into a work-force with little opportunity.

Increased security will also be a focal point of the new plan and the government in due to increase police and surveillance presence in East Jerusalem.

Government figures say that some 306,000 people reside in the eastern district of Jerusalem making up 20% of Israel's "minority population". Some 30% of children drop out of high-school for various reasons.