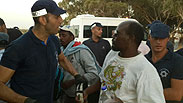 Ahead of the forced evacuation
Photo: Roee Idan
Large forces of police and Administration of Border Crossings, Population and Immigration clashed with African asylum seekers in the Nitzana forest on Sunday evening.

Some 600 asylum seekers left the Holot detention facility in the Negev on Friday and started walking towards Israel's border with Sinai. After failing to cross the border, they stayed in the area over the weekend, refusing to return to Holot.

Police called on the asylum seekers to board buses back to the Holot facility, saying that if they fail to do so, they would be taken to the Saharonim detention center, where they will be jailed for up to three months.

Related stories:

After the asylum seekers refused to willingly leave, police started evacuating them by force, which led to violent clashes, in which several of the asylum seekers started hurling stones at police resulting in several injuries.

"There are a lot of policemen here. We don't have food or water and no one is helping us. But we intend to keep fighting for our basic rights and not give up," Haptom, an asylum seeker from Eritrea, told Ynet.

According to an amendment to the Prevention of Infiltration Law, if the asylum seekers don't return to Holot within 48 hours from their departure, the state is authorized to arrest them and transfer them to the Saharonim detention facility.

After their transfer to Saharonim, dozens of the asylum seekers announced the beginning of a hunger strike though the Israel Prison Service only recognizes a hunger-strike after three meals in a row have been refused by a prisoner.

On Saturday, the asylum seekers met with representatives from the UN Refugee Agency and asked that the international body help them in their plight.

"There's no difference between Holot and Saharonim," Haptom said. "We're in prison anyway, so we'll stay here."

"The government hasn't even reviewed our requests for asylum and held us in jail for years even though we are refugees," explained Jack, an asylum seeker from Eritrea, who also refuses to return to Holot.

"Israel trampled our rights; we are desperate and therefore intend to return to Sinai and Egypt, even if it would risk our lives. We are ready to die, since we have nothing left," added Jack.

The Holot facility currently holds some 2,400 people. In the past two weeks protests have been increasing inside the facility, with asylum seekers demanding improved health care and educational facilities. Hundreds of the Holot detainees have violated the detention terms and failed to check in for their mandatory daily attendance. Some of the protest's leaders were transgered to the Saharonim detention facility follow the violation.