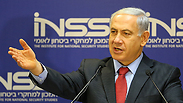 Netanyahu speaking at the INSS conference
Photo: Yaron Brener
Israel needs to maintain military presence along the Jordan border so it could defend itself from the threat of extremist Islamist forces, Prime Minister Benjamin Netanyahu asserted Sunday at Tel Aviv University's INSS think tank.
Shortly before Netanyahu's speech, the Islamic State in Iraq and Syria (ISIS), an offshoot of al-Qaeda which has captured swathes of territory in Iraq and Syria, has declared itself an Islamic "Caliphate" and called on jihadi factions worldwide to pledge allegiance to it.
The group, that has renamed itself "Islamic State," declared its leader Abu Bakr al-Baghadi as "Caliph" - the head of the state.
Charging that Israel could not trust other security forces - such as that of Jordan or the Palestinians - to stop the Islamist threat, Netanyahu stressed that in any future agreement with the Palestinians, "Israel will have to remain along the Jordan river for a very long period of time."
Following reports over the weekend that Israel might be called to help Jordan in the war against ISIS, that is now threatening the Hashemite Kingdom, Netanyahu has called for "support in the international efforts to strengthen Jordan."
"Our first challenge is to protect our borders. Extremist Islamic forces are knocking on our doors in the north and south and we've set up obstacles against them, except for in one sector," Netanyahu said, referring to the border with Jordan.
"The first thing we must do is build a fence in the east. While the fence doesn't stop all infilitrations, gun and rocket fire though it or over it, or the digging of tunnels, it dramatically narrows down infilitration to Israel.
"Think what would've happened if we didn't have a fence on the Israeli-Egyptian border. Now it is also clear why I insist that our eastern border is along the Jordan River. We must be able to stop the waves of zealotry on the Jordan border," he added.
Support for Kurdish statehood
Netanyahu also voiced support for Kurdish statehood, taking a position that appeared to clash with the US preference to keep sectarian war-torn Iraq united.
Israel has maintained discreet military, intelligence and business ties with the Kurds since the 1960s, seeing in the minority ethnic group a buffer against shared Arab adversaries.
The Kurds have seized on recent sectarian chaos in Iraq to expand their autonomous northern territory to include Kirkuk, which sits on vast oil deposits that could make the independent state many dream of economically viable.
But Iraqi Kurds, who have ethnic compatriots in Iran, Turkey and Syria, have hesitated to declare full independence, one reason being the feared response of neighboring countries.
"We should ... support the Kurdish aspiration for independence," Netanyahu said, after outlining what he described as the collapse of Iraq and other Middle East regions under strife between Arab Sunni and Shi'ite Muslims.
Kurds, Netanyahu said, "are a fighting people that has proved its political commitment, political moderation, and deserves political independence".
Washington wants Iraq's crumbling unity restored. Last Tuesday, US Secretary of State John Kerry visited Iraqi Kurdish leaders and urged them to seek political integration with Baghdad.