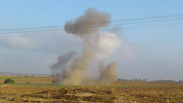 Rockets in the south of Israel
Photo: Adi Hamawi
More than a dozen rockets fired from Gaza Strip slammed into Israel early Monday morning, following violent days in the south which have seen a rocket hit an Israeli factory and IDF retaliatory attacks kill at least one.

The attacks marked more than two weeks of increasing rocket fire from Gaza since the beginning of Operation Brother's Keeper in the West Bank, to find and bring back to safety the three missing Israeli teens – Eyal Yifrach, Gil-Ad Shaer and Naftali Frenkel.

Related stories:

Sderot man wounded in fire after direct rocket strike on his home IAF hits 5 Gaza terror targets overnight following rocket fire at South IAF strikes Gaza rocket launching cell, 1 dead, several wounded


According to initial assessments close to 14 rockets were fired overnight Sunday until the early Monday morning hours, the majority of which exploded in open areas of the Eshkol Regional Council.

At roughly 7 am a 10 rocket barrage was fired toward the regional council, with all of the rockets exploding in open areas, causing neither damage nor injuries. At 7:30 am at least one more rocket was fired.


At roughly 8:30 am, another rocket exploded inside a Sedot Negev Regional Council community, causing light damage to a structure.

An additional rocket exploded in an open area in the regional council, joining the massive rocket barrage fired at Israel.

The onslaught followed a siren-filled night which saw at least three additional rockets fired from Gaza, all three also exploded in open areas, failing to cause damage or injuries.
Southern tensions
In addition to the massive West Bank search operation, recent days have seen an escalation in the situation in the south.

One person was reported dead and several were wounded along the Israeli border with the Gaza Sunday evening as after the Israeli Air Force (IAF) launched a targeted attack against a rocket launching cell in the Gaza.

Muhammad Zaid Abid was confirmed as the terrorist killed by the IAF and at the same time, the IDF spokesperson confirmed over Twitter that terrorists in Gaza opened fire on soldiers patrolling the border fence. Israeli forces returned fire at suspected enemy positions.

Palestinian media addressed the same fire from soldiers, reporting that the IDF had attacked a Terrorist cell just East of Khan Yunis in the south of the Gaza strip.

The military clashes marked Israel's retaliation to two rockets that were fired from Gaza into Israel Sunday evening, both of which were shot down over Netivot by Israel's Iron Dome anti-missile system. Two mortar shells also fell in Israeli territory causing no damage.

One rocket struck Sderot on Saturday, setting a fire in a factory that burned to the ground.

Meanwhile, Armored Corps brigades were instructed to prepare for the possibility of being transferred to the Gaza Division as security officials considered all options in response to rocket fire.

Israel has been responding aggressively to all rocket attacks, including an assassination in Gaza on Friday which killed two senior members of the Popular Resistance Committees, responsible for recent rocket attacks.

More than 200 rockets have been fired at Israel since the beginning of 2014.

Yoav Zitun and AFP contributed to this report