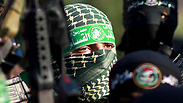 Izz ad-Din al-Qassam Brigades
Photo: EPA
For the first time since the end of the IDF Operation Pillar of Defense in November 2012, the Hamas military wing is behind rocket strikes on Israel, with a wave of attacks overnight Sunday and early Monday emanating from central Gaza refugee camps completely under Hamas control.

There a number of Palestinian factions active in Gaza and though Israel views Hamas as responsible for any rockets fired from the Gaza territory, the group generally avoids such direct attacks on Israel. In the past 24 hours, however, the Izz ad-Din al-Qassam Brigades have been lauching rockets from the Dir al Balach, Bureij and Muasi refugee camps.

Related stories:

More than a dozen rockets fired from Gaza Strip slammed into Israel early Monday morning, following a weekend of escalating tensions in the south, which saw a rocket hit and set alight a Sderot factory, as well as IDF retaliatory attacks that killed at least one Gazan.

Since the Pillar of Defense ended, the majority of rockets fired at Israel – currently standing at over 200 in 2014 alone – have been launched by either the Islamic Jihad or the Popular Resistance Committees. At time, smaller Salafist groups have also fired rockets or carried out attacks at Israel. However, Monday's rockets were of an older make known to be in the Hamas arsenal.

The fact that Hamas – which recently signed a controversial reconciliation agreement with Palestinian President Abbas' Fatah movement – is behind the attack could mean the group has chosen to escalate its response to Israel's retaliatory attacks.

The Monday morning barrage followed an IAF attack late Sunday in Gaza, along the Israeli border, which left one Palestinian dead and several others wounded.

The IDF said Mohammed Zaid Abid was killed after the army launched a targeted attack against his rocket launching cell minutes before they planned to fire at Israel. Abid was identified by Palestinian media as a member of the Hamas military wing.
Morning salvo
The attacks mark more than two weeks of increasing rocket fire from Gaza since the beginning of Operation Brother's Keeper in the West Bank, to find and return three missing Israeli teens – Eyal Yifrach, Gil-Ad Shaer and Naftali Frenkel.
According to initial assessments, 16 rockets were fired overnight Sunday until the early Monday morning hours, the majority of which landed in open areas of the Eshkol Regional Council.
At roughly 7 am, a 10-rocket barrage was fired at the area, with all of the rockets falling in open areas, causing neither damage nor injuries. At 7:30 am at least one more rocket was fired.
At roughly 8:30 am, another rocket struck inside a Sedot Negev Regional Council community, causing light damage to one structure. An additional rocket hit in an open area in the regional council.
The onslaught followed a siren-filled night that saw at least three additional rockets fired from Gaza, all three also landing in open areas, failing to cause damage or injuries.