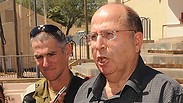 Defense Minister Moshe Ya'alon (archives)
Photo: Avihu Shapira
The IDF is conducting extensive searches after the three kidnapped teens in the area of Beit Kahil, north of Hebron.

A security official referred to the matter on Monday, saying: "Searches are continuing today in the northern bank of Hebron while the relatives of the two kidnappers were also arrested (earlier today).

"Special intervention units are preparing to raid the hideout of the kidnappers once the relevant intelligence is received."

Defense Minister Moshe Ya'alon toured on Monday the communities in the Gaza sector and the Sderot factory that was hit by rocket fire

on Saturday and said: "Hamas is not interested in further escalation and is relaying these messages through Egypt."

He added: "The other side has paid and will pay a heavy price until we say enough. We are preparing for the most severe possibility, but the other side is not interested in that. There are many organizations and movements in the Gaza Strip. The rocket fire is unacceptable.

"Hamas operates most of the year against the sources that fire (at Israel) and enforces the understandings reached after Operation Pillar of Defense."

The Defense Minister further said: "Those in Gaza who think that because of our extensive activity in Judea and Samaria, we don't have enough forces in the Gaza Strip – are wrong."

Ya'alon linked between the Palestinian Authority and the rocket fire from Gaza: "Hamas is the sovereign in the Strip, but Mahmoud Abbas also has responsibility over events in the Strip.