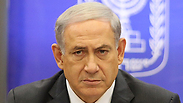 Prime Minister Benjamin Netanyahu
Photo: Gil Yohanan
Prime Minister Benjamin Netanyahu vowed Monday evening that Israel would make Hamas pay for the murders of three Israeli teens whose bodies were found hours earlier, 18 days after they went missing in the West Bank.
"Hamas is responsible and Hamas will pay, Netanyahu said at the opening of a emergency security cabinet meeting called after the bodies of Eyal Yifrach, 19, Naftali Frenkel, 16, and Gil-Ad Shaer were found by security forces.
"With heavy grief, this evening we found three bodies. All signs indicate that they are the bodies of our three abducted youths – Eyal Yifrach, Gilad Shaar and Naftali Frankel," Netanyahu noted.
They were abducted and murdered in cold blood by human animals. On behalf of the entire Jewish People, I would like to tell the dear families – the mothers, fathers, grandmothers and grandfathers, and brothers and sisters – we are deeply saddened, the entire nation weeps with you.
"We will give the boys a proper burial. 'Vengeance for the blood of a small child, Satan has not yet created'; neither has vengeance for the blood of three pure youths, who were on their way home to meet their parents, who will not see them anymore. Hamas is responsible – and Hamas will pay. May the memories of the three boys be blessed."
Economy Minister Naftali Bennett vowed retribution.
"There will be no absolution for murderers of children," Bennett said, shortly after news broke that the three had been found dead.
Sixteen-year-olds Naftali Frenkel and Gil-Ad Shaer and 19-year-old Eyal Yifrach disappeared while hitchhiking home from their yeshivas in the West Bank. The IDF launched a massive manhunt for the three, arresting at least 450 Palestinians as part of Operation Brother's Keeper, but it took until Monday to discover their fates.
Opposition leader and Labor Chairman Isaac Herzog branded the murders despicable.
"The kidnapping and murder of innocent boys under cover of night is a despicable and unforgivable crime," he said. "There is no justification or excuse, and I am convinced that the long arm of the security forces will reach the killers."
Herzog also sent his condolences to the families of the teens.
"We have known difficult, painful attacks in the past. We have overcome them, and we will again. That is the nature of life in this country. My hearts and my condolences are with the families. May the boys' memories be blessed," he added.
President Shimon Peres also expressed his sorrow to the bereaved parents: "Alongside the deep mourning, we remain determined to bring down an iron fist on the criminal terrorists. Our war against terror will only grow and not weaken so that the murderous terrorists will not dare to raise their heads.
He added: "At this difficult hour, I warmly embrace and strengthen the hands of the mothers, the wonderful fathers and family members of Naftali, Gil-Ad and Eyal."
President elect Reuven Rivlin sent his condolences: "What we feared has come to pass. Our fear was deep but we carried in our hearts the hope that even murderous terrorists would spare the teens.
"Just last night I met the families and together we directed a sight of hope for the future, but our hopes were shattered. Our hearts at this difficult time are with the brave families who will forever be a symbol of heroism and hope in the most difficult times."
Transportation Minister Yisrael Katz also expressed his sorrow and repeated his colleagues' calls for Hamas to pay the price for the deaths of the three boys.
"We must act decisively and destroy Hamas infrastructure in the West Bank and Gaza. We must teach Hamas a lesson they will never forget."
Knesset Speaker Yuli Edelstein said: "At this difficult hour, I embrace the families of Shaer, Frenkel and Yifrach."
"Israel must go to an uncompromising war against terror in general and against Hamas in particular. It's time for the Palestinians to also understand that Hamas will lead them to annihilation," he said.