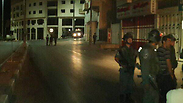 Hebron home
Photo: Elior Levy
The IDF used explosives Monday to demolish part of a home in Hebron that belonged to one of the key suspects in the kidnapping of the three Israeli teens, Amar Abu-Eisha, fearing that he was in the house and could open fire on soldiers.

Palestinian video of IDF demolishing kidnappers' homes

Some of the walls of the house were destroyed and a fire broke out but was quickly extinguished. No one was injured in the incident and the soldiers reported that they were scanning the remains of the house for weapons.

Nonetheless, Israel's security cabinet was yet to formulate a firm military response to the situation. Following a three-hour discussion on Monday night, ministers were to meet again on Tuesday for further deliberations.

Forces also carried out a raid on the home of the other Palestinian suspected of abducting the three Israeli teens whose bodies were found earlier in the evening. Earlier Monday, officials reported in depth searches in Hebron at the home of the two suspects Abu-Eisha, 33, and Marwan Kawasmeh, 29.

Related stories:

The Shin Bet had apparently suspected the two Palestinians since the day after the abduction. Accordingly, their families and any others suspected of aiding them were arrested and questioned by security officials. According to media reports the day after the kidnapping, the wives of the two suspects had been arrested and undergone hours of interrogation.

GOC Central Command Brig. Gen. Nitzan Alon addressed the IDF response to the discovery that the three boys had in fact been killed saying, "Our forces, together with people from across the security service and the police are continuing and will continue the search for the kidnappers, the terrorists from Hamas, as long as is required. We won't rest... until the mission is complete."

True to his word, IDF operation did continue Monday evening as military sweeps were carried out in several homes in Hebron, some of which had some form of connection to Kawasmeh. Palestinian media reported Saturday that the Shin Bet had arrested Abu-Eisha's father.

Clashes were noted in the late evening between Palestinians and IDF soldiers in the area of Halhul where the bodies of the three teens were found. All entrances to Hebron were closed as a result of the discovery.

The clashes were characterized by some 200 Palestinians who threw stones at security forces and soldiers answered with riot control measures. Several dozens of settlers gathered at the entrance to Karmi Tsur, just adjacent to Halhul. The settlers raised Israeli flags and blocked all Palestinian vehicle traffic on Highway 60.

Since the beginning of Operation Brother's Keeper, security forces have arrested more than 450 Palestinians. Among them were Hamas members and others suspected of terrorist activity. Two radio and television stations have been closed in the framework of the operation and more than 2,000 homes have been searched.