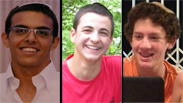 Eyal Yifrach, Gil-Ad Shaer and Naftali Frenkel
Photo: Shaul Golan
Prime Minister Benjamin Netanyahu mourned the loss of the three Israeli teens Tuesday evening when he spoke at their funeral in Modi'in saying, "We were charmed by the magic of their smile, their kindness, their joy of youth. Today became a day of national mourning."
"The moral chasm that separates us from our enemies is deep and wide," said the prime minister. "They revere death and we life. They revere cruelty and we, pity. This is the secret of our strength, it is also the base of our unification."
President Shimon Peres also spoke at the funeral saying, "To all those who wish to vanquish us, I want to say that terror is a boomerang. It's targeted against us but hits its instigators. We bow our heads but won't lose our soul. I know that security forces will catch the murderers and they will be brought to justice."
Peres addressed the families of the murdered teens saying, "You inspired in them a love of their people, a love of Torah and a love of the land. You instilled in them devotion and a love of mankind."
Gil-Ad Shaer, Naftali Frenkel and Eyal Yifrach were to be laid to rest side by side in Modi'in cemetery on Tuesday evening, a day after the bodies of the three teens were found in the West Bank and 19 days after they vanished while hitchihiking near Hebron.
A visibly emotional Rachel Frenkel, Naftali's mother, said in her eulogy to her son: "Rest in peace, my child. We will learn to sing without you. We will always hear your voice in our hearts."
Even among the sorrow of the mourners, she recalled that Naftali had brought joy to the lives of his loved ones.
She thanked the soldiers who worked day and night to find the boys, "you promised you would find them and bring them home, and you did."
"We're crying, but these are tears of strength and love," Uri Yifrach, Eyal's father eulogized his son.
He also had strong words to his son's murderers: "You are wrongdoers, the nation of Israel promises that your day will come. We will not break."
"We are humanitarians, we have love and it will triumph," he continued. "We will not break. We will not give up. We're here, and you can't change that. We're a strong nation."
"Eyal, you are a saint," his father continued. "You had a special kind of love for any man ... What else do you need? You told me many times, 'if someone asks me for something, I can't refuse.'
"Your siblings want you near them, for you to come and give them a big hug. For you to hug mom. Mom said that you are now right by God's side. She asked you to whisper to God, ask Him to give her strength, to give all of us strength. It'll be hard without you. We need strength."


Eyal's grandfather also eulogized his grandson: "I'm convinced Eyal fought his kidnappers with all of his might, to show them that we are not afraid, because he had a hero's soul: A hero in his love to the land of Israel, a hero in his love to the people of Israel. And he definitely did not go like sheep to the slaughter. I'm convinced he gave them everything he could to prove that we're in our land, our home land, and we're certain in the righteousness of our path, that the land of Israel is ours."

Defense Minister Moshe Ya'alon spoke at Eyal Yifrach's memorial service: "Three mothers and three fathers are burying their son today. The sadness and grief that has surrounded you since you received the bitter news, has surrounded the entire country as well.
"You, who raised your sons and made them who they are, will not carry their memory everywhere you go. In the 18 days that have passed since the kidnapping, we learned, every day that passed by, more and more about their personalities, their hobbies, the little things that show that they were teenagers in the beginning of the journey of life that was cut short.
"Eyal, Gil-Ad and Naftali were kidnapped and murdered by wrongdoers, just because they were Jews. They were abducted and murdered in cold blood by those whose mission is to hurt the citizens of Israel and fight a daily war of attrition. They can't defeat us," Ya'alon added.
The defense minister also vowed: "We will not rest until we lay a hand on the kidnappers, and bring them to justice."
Speaking of his son Gil-Ad's call to the police, Ofir Shaer said: "From the moment I heard your brave whisper, I heard a great voice and I stood taller. What resourcefulness, bravery and strength of someone not yet 17.
"My talit (prayer shawl) ... is wrapping your innocent body before you are interred into the land of Israel that you loved so much. You are a part of the family of Israel. Your last message, and ascent to the heavens, have ended the divides and united a whole nation," Shaer added.
Finance Minister Yair Lapid eulogized Gil-Ad: "We're not burying a settler today, we're not burying a soldier. We're not burying just anyone. We need each other on this day. We need each other, not anger, we don't need another divide. We need love, a common language."
Regarding the kidnappers, the finance minister vowed: "We will find them and punish them, the true revenge is the ability to bridge the gaps between us."
The three funeral processions will join together at 5:30pm in Modi'in, where Prime Minister Benjamin Netanyahu will deliver a eulogy for the three teens.
Initially, the boys were to buried in separate locations based on their home towns, but their families, after consulting with police and local rabbis, chose Tuesday morning for them to be laid to rest side by side. The families were informed during the night that the three had been formally identified from their remains.
Ezra Shaer, Gil-Ad's grandfather, said the families initially wanted to bury the teens in the Mount Herzl cemetery in Jerusalem in a state funeral.
"All day I've been asking for them to be buried on Mount Herzl, as is appropriate for teens who were murdered by miscreants, but they told us we can't because they're not soldiers," the grandfather said.
"I only have one request: Please build a monument on Mount Herzl in memory of the three teens, so everyone who visits the cemetery sees what the murderous miscreants did to three flowers who only wanted to come home for Shabbat."
Searchers found the bodies of the three boys in a shallow grave north of Hebron at around 5pm on Monday evening. Security forces were concerned Tuesday that now that the bodies have been found, the kidnappers would try to escape from the Hebron area, where the IDF and Shin Bet had been focusing their search for both the teens and their abductors.