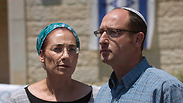 Bat Galim and Ofir Shaer, Gil-Ad's paents.
Photo: Reuters
Gil-Ad Shaer's mother, Bat Galim, told Ynet on Wednesday that after being played the recording of her son's call to the police, several days after her son, Eyal Yifrach and Naftali Frenkel were kidnapped and murdered, police told her there was a chance the boys were still alive.

"Security officials told us the gunshots (heard in the recording) were blanks, because if you want to kill someone, you shoot them straight away without warning them first," she said. "We heard Gil-Ad yell in pain but it sounded like he was being pinched, (he didn't sound) like someone who was about to be murdered. They told us they must've fired out the window, and this is why they found cartridges on the sides of the car. We had real hope that they were alive."




Bat Galim said the recording hasn't been released until after the bodies were found because "we were afraid the kidnappers found out it was Gil-Ad who called, under the assumption they are holding our son captive. We didn't want them to know he's the one who made the call."

Despite what we now know, Shaer said security officials told the families in the days following the abduction that no blood or DNA traces had been found in the burned car. "This gave us hope," she said.

Bat Galim also described the events of that fateful Thursday night from her end. "At a certain point that night we realized it wasn't the police that needs to handle it, but the army, and that (the army) wasn't getting it. We realized they were putting roadblocks in the Beit Shemesh area . I told myself: 'We must have connections. We must have someone do something.' We're ordinary citizens so we turned to people in our community that had some connections. It was only after we got the head of security, who is in contact with the IDF, that something moved. This entire time we felt like we were losing precious time.

"When they told us at 6am that the army was now in the picture, I told myself we were in good hands. This entire time I told myself that by Shabbat, I'll have my child back. I was very naive in my trust of the system. I told Ofir (her husband, Gil-Ad's father): You are going to the army now and making sure they're sending troops to the field, so we won't later find out there were failures. I know in hindsight that at 4am, they located a phone in Judea and it was clear something was going on.

"We did some field work: We called parents, friends. We did everything someone else should've done. In a private conversation with the defense minister and head of Shin Bet I told them: There was a big mess up in the beginning, and we know this.

"I told them: Right now, I don't want to deal with mess ups. I just want to know that you are doing everything to bring my son back to me. We don't have time to criticize right now and only after Gil-Ad is found I'll come after you.

"Starting the process (of the search) took time and that's a major mess up. Another horrible mess up is that the border crossings were only closed at midday, even though the army was aware of the situation since 6am."

Even now, a day after the funeral, the Shaer family has yet to receive information from defense officials on the events that led to the murder of their son.

"All we know is from the media. I expect an official to come update us," she said.