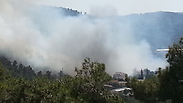 Fire in Jerusalem
Photo: Moran Chaim Zada
Three wildfires erupted just outside of Jerusalem Wednesday near Hadassah Hospital in the towns of Even Sapir, Aminadav and Ora while 39 squads of fire fighters were rushed to the area to gain control and evacuate endangered residents.

Some 20 hikers were rescued from the area as six fire retardant aircraft aided firemen in the fight. No injuries were reported, but a factory in the area was damaged.

Rescue crews have so far evacuated all of the homes in Ora and Aminadav as well as 15 homes in Even Sapir. The main road to the Hadassah Hospital was closed to traffic.

Nir Shoshani, a resident near the fire in Even Sapir said, "I can see the fire from my house."

Amiad, who observed the fired from the surrounding towns said, "Lots of fire trucks are headed to Jerusalem on highway 1. The whole area of Hadassah Hospital is covered in smoke."