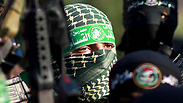 'Hamas behind rocket fire'
Photo: EPA
The IDF has begun shifting forces to the Gaza area, in preparation of a possible escalation in the conflict with Hamas. Israel believes Hamas was directly behind the massive rocket fire at Israel Thursday morning which saw more than 11 rockets slam into Israel, with three hitting residential structures and causing damage.
According to an official source within the defense establishment, Hamas has begun firing rockets itself in retribution for the death of Mohammed Abu Khder, a Palestinian youth who was found dead in a Jerusalem forest Wednesday.
Related stories:
Police are investigating the possibility he was killed by Jews as a revenge attack for the murder of the three Israeli teens who were presumed to have been kidnapped but were discovered dead Monday in a West Bank valley.
The IDF began preparing for an escalation in the south and artillery forces training in other regions were transferred to the Gaza area. Though the forces were not large in number, they give the IDF the ability to quickly respond and embark on a larger operation, should it decide to do so.
A senior IDF official said that the IDF was "preparing for a wider operation in Gaza," and Palestinians have reported that Israeli warships across from Gaza's shores also seem to be preparing. It is possible the shift in forces is intended as a warning to Hamas.
It is far from certain that the IDF is planning to undertake a massive ground operation. Though both sides have expressed a desire not to escalate the situation, should rocket fire increase in scope and range or exact heavy causalities, the military will be forced to lock horns with Hamas.
Hamas rockets
Last Monday saw the first rocket attack by Hamas since the end of Operation Pillar of Defense ended in 2012, with a wave of attacks overnight Sunday and early Monday emanating from central Gaza refugee camps completely under Hamas control.

There a number of Palestinian factions active in Gaza and though Israel views Hamas as responsible for any rockets fired from the Gaza territory, the group generally avoids such direct attacks on Israel.

Ynet's senior national security corresponded, Ron Ben-Yishai, claimed the current round of escalation had yet to reach its zenith: "We can still stop the Gaza escalation, but it currently seems unlikely. The fear is that tensions will spill into riots in Jerusalem which will further spread out.

"The norm is that before you take things one step up – you give some form of notice. The IDF needs to send the Palestinians the message that they are preparing themselves for the next escalation, whether it is a large operation or even an incursion into Gaza."

Since the Pillar of Defense ended, the majority of rockets fired at Israel – currently standing at over 200 in 2014 alone – have been launched by either the Islamic Jihad or the Popular Resistance Committees. At time, smaller Salafist groups have also fired rockets or carried out attacks at Israel.

The fact that Hamas – which recently signed a controversial reconciliation agreement with Palestinian President Abbas' Fatah movement – is behind the attack could mean the group has chosen to escalate its response to Israel's retaliatory attacks.

Over ten rockets slammed into Israel overnight Wednesday and Thursday morning, with four of them hitting homes in Sderot. The last two struck a house in the city which hosted a summer camp and another residence. The rocket that penetrated the structure used as a camp failed to explode and no one was injured.

Three rockets exploded in populated areas in Sderot overnight Thursday, while one of them hit a student's apartment in the city and the other exploded adjacent to an apartment building. Yet another rocket slammed into a wall of an outdoor rocket shelter, fracturing it. Some four people suffered anxiety as a result of the barrage.

In addition, two rockets from the morning barrage were intercepted by the Iron Dome missile defense system and the others landed in open areas in Sdot Negev and Bnei Shimon in the northern Negev, apart from one that hit a greenhouse in the area.

About two hours following the barrage of rockets, the IAF attacked 15 Hamas terror targets in the Gaza Strip, including concealed rocket launchers, training compounds and weapon-storage facilities.

The IAF also struck rocket-launching terrorist cells in the southern Gaza Strip on Wednesday. The attack was carried out after a volley of rockets was fired on Wednesday afternoon at western Negev communities, continuing a general escalation in tensions. Direct hits were confirmed on all targets.