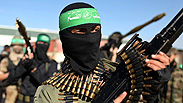 Izz ad-Din al-Qassam Brigades
Photo: Reuters
Amidst increased rocket fire at the Israeli south and threats from Hamas to expand range of rockets, Prime Minister Benjamin Netanyahu said Thursday that if Gaza rocket fire stopped then Israel would also halt its actions.
But he added in a speech that if "firing toward our residents in the south continues, then our bolstered forces there will act forcefully".
Another salvo of rockets hit the Israeli south on Thursday evening. Over 15 rockets and mortar shells were fired at Sderot, the Sha'ar HaNegev Regional Council and the Eshkol Regional Council. A soldier was lightly hurt in Eshkol from shrapnel in his leg.
Some of the rockets hit structures and caused fires. In Eshkol, residents were instruction to stay in safe rooms, while residents in the rest of the communities bear the Gaza border were instructed to remain within 15 seconds from a safe room or a shelter.
"Any foolish move the Israeli leadership makes will put Israeli towns in the range of our rockets. We will strike new targets," an Izz ad-Din al-Qassam Brigades spokesman said. "We have a bank of targets that Israel expects we'll hit, and other targets Israel doesn't expect us to hit."
The spokesman went on to saying that if the Izz ad-Din al-Qassam Brigades reveals the arsenal of rockets in its possession, it would surprise both its enemies and friends.
Related stories:
He also noted Hamas was prepared for any possible scenarion, and that it was coordinating with the other factions in the Strip.
He asserted Israel can determine how to confrontation would start, but would not be able to determine how it would unfold, and how it would end, and warned that Israel has crossed a line by re-arresting Hamas operatives freed in the Shalit deal.
Two senior Hamas officials told the Associated Press the group has "no interest" in any kind of escalation and hoped the cease-fire that ended the 2012 fighting could be restored. But they warned that rocket fire would continue until Israel halts its attacks on Gaza.
The officials, speaking on condition of anonymity because they were discussing ongoing diplomatic efforts, said they had sent messages to Israel through outside mediators but had been rebuffed.
"Israel has been attacking Gaza since the kidnapping of the teens," one official said. "Once Israel stops attacking Gaza, we are willing to immediately preserve the truce."
Sderot was hit with a salvo of rockets on Wednesday night and Thursday morning, with four of them hitting homes in the southern city. The last two struck a house in the city which hosted a summer camp and another residence. The rocket that penetrated the structure used as a camp failed to explode and no one was injured.
The Israel Air Force has attacked a number of targets in the southern part of the Gaza Strip in response to the ongoing rocket fire. The IDF said that the attacks' goal was to prevent additional rocket fire at Israel.
In light of the mounting tensions in southern Israel, the IDF bolstered forces along the volatile border with Gaza.
Israeli defense officials, speaking on condition of anonymity under military guidelines, said the deployment included tanks, artillery and ground forces. Israel's last major operation in Gaza, a territory controlled by the Hamas militant group, took place in late 2012.
Defense Minister and former chief of staff Moshe Ya'alon accused Prime Minister Benjamin Netanyahu of not combating terrorism with a strong enough hand, which Ya'alon asserted was the reason Israel's deterrence has eroded.
"A policy of calm for calm means we accept the situation in which boys on their way home are being kidnapped and murdered. It means we accept a situation in which live in the south are a danger and continuous nightmare, and mostly we just encourage our enemies to set the agenda for us as they please, and this is a grave mistake," he said.
"Why are we, a sovereign nation with a strong army, begging a terror organization to give us calm? We need to recover the deterrence in a way that they are the ones begging for calm. What are we teaching our enemies all over the world? That they can do anything to us and we'll turn the other cheek," he continued.
The Associated Press contributed to this report.