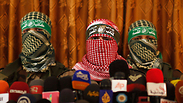 Izz ad-Din al-Qassam Brigades press conference in Gaza
Photo: Reuters
Israel and Hamas have reached a ceasefire agreement that would put an end to the recent escalation in southern Israel, the BBC reported, citing an unnamed source in Hamas.

The news came after tense days that saw over 40 rockets hit Israel, with some hitting residential homes in Sderot and the military returning fire at Gaza.

Related stories:

However, late Wednesday Israel reportedly reached out to Hamas through informal channels, passing on a message according to which calm will be met with calm. Breaking with policy, the IDF has refrained from responding to two additional rockets fired Thrusday morning.


According to the BBC, a source within Hamas claimed a truce had been reached and said it was brokered by Egyptian intelligence officials.

The source told the BBC that "intensive contacts" between Egyptian officials and Hamas the group and Egyptian officials have "succeeded in reaching a new truce between Hamas and Israel, and that the ceasefire agreement was to be announced within hours."

According to the report, Hamas would halt rocket fire in return for a commitment from Israel it would halt IDF raids.

A senior political official told Ynet that if it wasn't for Ramadan, the ceasefire between Israel and Hamas could have taken place sooner, he added that the current round of violence would end shortly.

A security official told Ynet that "the ball is now in Hamas' court; we informed Hamas that calm will be met with calm and if there would be no calm, they will pay a heavy price.

"The message is very clear and it was delivered unequivocally. If Hamas have decided on a one-sided ceasefire, than all the better."

Egypt has at many times served as an intermediary in the region, both between Israel and Hamas, and between Hamas and Fatah. Egypt was instrumental in securing the ceasefire which put an end to Operation Pillar of Defense in November 2012, as well as working to transfer Sgt. Gilad Shalit from Hamas' captivity in Gaza to Israel as part of a prisoner exchange deal.

It also aided in the original formulation of the Palestinian reconciliation between Hamas and Fatah which eventually led to the formation of a unity government.
Restrain in face of rockets
After rocket attacks on Israel, the IAF usually responds by targeting rocket launcher cells or terror infrastructure in Gaza Strip. However, in line with the message sent indirectly by Prime Minister Benjamin Netanyahu and government officials to Hamas Wednesday, according to which calm will be met with calm, the military has refrained from responding.
The two rockets fell at roughly 5:30 am Friday and came after Wednesday saw close to 50 rockets hit Israel's southern communities, roughly four of which hit homes in the southern town of Sderot.
The two projectiles fell in open areas near Sderot, while Iron Dome intercepted another rocket which was aimed at the rocket-battered city.
However, IDF forces created a smoke screen in the northern Gaza Strip in a bid to hinder rocket launchers ability to aim their missiles.
About 125 rockets were fired from the Gaza Strip at southern Israel over the past month, 45 of which in the last 24 hours.
Government officials said on Thursday that Israel sent messages to Hamas through different channels, warning the organization that if the situation in Gaza escalates, the IDF will severely hit Hamas and launch a significant operation in the Strip.
Despite that, the message also said that just like in previous rounds of violence, Israel would respond to calm with calm.
Shortly before midnight, after a two-hour break in rocket fire, it renewed again. A Code Red siren was sounded in the Sdot Negev and Sha'ar HaNegev Regional Councils, and a rocket fell in an open area.
Before that, 15 rockets and mortar shells were fired within an hour, and one soldier was lightly wounded in Eshkol from shrapnel to his leg. In addition, two fires broke out in Sderot as a result of the rocket fire, and light damage was caused to buildings from rockets that fell in Sdot Negev.
The cabinet met to discuss the escalation in recent days - that include both rockets from Gaza and violent clashes in East Jerusalem. The cabinet discussed the risks a widespread operation in Gaza poses, among them rocket fire at Tel Aviv.
A government source said that "Israel is still in the stage of studying the situation, but it's still unclear whether the messages passed on to Hamas have been received and understood."
Attila Somfalvi and Elior Levy contributed to this report