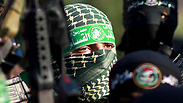 Hamas operatives
Photo: EPA
The International Monetary Fund on Thursday said the economy in the West Bank and Gaza is weakening and urged Israel to lift restrictions on the Palestinians. The body also praised the PA and said the international community should fund the Hamas-Fatah unity government.

The unity government between Hamas and Fatah has led Israel to urge the US and other donor nations to cut ties with the PA, claiming its releations with Hamas, which is dedicated to the destruction of Israel, bar it from reciving support.

Related stories:

The comments by the IMF Palestinian mission chief indicate some donors are not willing to leave the Palestinians hanging, fearing an economic crisis in the PA would worsen the situation.

After briefing the international donor community and the Palestinian Authority, IMF mission chief Christoph Duenwald said in a statement that the authority is "doing a commendable job" managing the economy in difficult circumstances.

He said the global donor community needed to step up to help fill a "sizable" financing gap this year for the authority.

"Against the background of rising political uncertainty, the economy of the West Bank and Gaza is weakening," he said.

According to the PA, as of March 2014 its debt stands at $4.8 billion.

"Unemployment, particularly youth unemployment, currently at 43 percent, continues to rise from already high levels," he added.

"Continued donor support is vital at this time, as is a comprehensive easing of Israeli restrictions to underpin the Palestinian reform efforts."

According to a February forecast, the IMF saw the economy in the West Bank and Gaza growing 2.5 percent this year, up from 1.5 percent in 2013.
Price of Unity
The Palestinians depend heavily on aid from donors – about $1.3 billion this year or the equivalent of nearly 12% of annual gross domestic product. But the aid has been falling in recent years along with optimism over peace and it is unpredictable. The Syrian conflict has also taken its tool on Palestinian aid.
After forming a unity government with Hamas, the PA faced threats it would lose international funding, in light of Hamas' status as a terror group.
After the unity deal was announced at the end of May, US congressional Republicans and Democrats signaled that any permanent arrangement between the PA and Hamas would force the United States to end some $400 million in economic and security aid provided annually.
The law states that no foreign aid can be provided to "any entity effectively controlled by Hamas, any power-sharing government of which Hamas is a member, or that results from an agreement with Hamas and over which Hamas exercises undue influence."
The leaders of the House Appropriations subcommittee that oversees foreign aid – Reps. Kay Granger, a Republican, and Nita Lowey, a Democrat, – said the agreement clearly threatens the money the Palestinian Authority has grown accustomed to receiving.
Since the mid-1990s, the United States has provided some $5 billion in bilateral aid to the Palestinians.