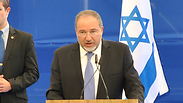 אביגדור ליברמן אירוע קבלת פנים ל דיפלומטים ב בית הנשיא יום העצמאות עצמאות
Photo: Ofer Meir
Foreign Minister Avigdor Lieberman slammed reports of a looming ceasefire between Israel and Hamas in Gaza. Visiting the rocket-battered town of Sderot, Lieberman said that "I object to this move, we are making a serious mistake. The message that 'calm will be met with calm' is a misled.

"We need to put our hands on those supporting and encouraging terror, this includes (Hamas leaders) Khaled Mashal and Ismail Haniyeh. They need to know they are a target."

Lieberman explained his position by decrying Hamas, saying "while we talk about a ceasefire, Hamas continues to develop missiles that can reach Tel Aviv. All we are doing is postponing the problem and not finding a solution. This is not the answer we need to be giving Hamas. "

Earlier Friday, the BBC reported that Israel and Hamas had reached a ceasefire agreement that would put an end to the recent escalation in southern Israel, citing an unnamed source in Hamas.

The news came after tense days that saw over 40 rockets hit Israel, with some hitting residential homes in Sderot and the military returning fire at Gaza.

Related stories:

However, late Wednesday Israel reportedly reached out to Hamas through informal channels, passing on a message according to which calm will be met with calm. Breaking with policy, the IDF has refrained from responding to two additional rockets fired Thrusday morning.


According to the BBC, a source within Hamas claimed a truce had been reached and said it was brokered by Egyptian intelligence officials.

The source told the BBC that "intensive contacts" between Egyptian officials and Hamas the group and Egyptian officials have "succeeded in reaching a new truce between Hamas and Israel, and that the ceasefire agreement was to be announced within hours."

According to the report, Hamas would halt rocket fire in return for a commitment from Israel it would halt IDF raids.

A senior political official told Ynet that if it wasn't for Ramadan, the ceasefire between Israel and Hamas could have taken place sooner, he added that the current round of violence would end shortly.

A security official told Ynet that "the ball is now in Hamas' court; we informed Hamas that calm will be met with calm and if there would be no calm, they will pay a heavy price.

"The message is very clear and it was delivered unequivocally. If Hamas have decided on a one-sided ceasefire, than all the better."

Egypt has at many times served as an intermediary in the region, both between Israel and Hamas, and between Hamas and Fatah. Egypt was instrumental in securing the ceasefire which put an end to Operation Pillar of Defense in November 2012, as well as working to transfer Sgt. Gilad Shalit from Hamas' captivity in Gaza to Israel as part of a prisoner exchange deal.

It also aided in the original formulation of the Palestinian reconciliation between Hamas and Fatah which eventually led to the formation of a unity government.