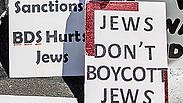 BDS gains traction in EU
Photo: AP
A number of European nations have issued travel warnings for Israel and urged their citizens to seek legal counsel before investing in businesses that operate in Jewish settlements in wake of the instability in the West Bank.
Tensions have been high in the West Bank which has been the epicenter of attention in Israel and abroad as the IDF scoured the hills and wadis around Hebron for the three teens that went missing on June 12. On Monday, Eyal Yifrach, Gil-Ad Shaer and Naftali Frenkel, who were presumed to be kidnapped in the West Bank, were found dead.
Eleven more EU nations (Austria, Belgium, Croatia, Denmark, Finland, Greece, Ireland, Luxembourg, Malta, Slovakia, and Slovenia) issued warnings on Thursday against investing in the West Bank. They join the ranks of Britain, France, Germany, Italy, Netherlands and Portugal, who had announced similar measures earlier in the week.
A total of 17 countries out of the 28-member European Union have now lent their indirect support to the boycott and divestment movement (BDS) which, earlier in the month, had gained a complicated ally in Dutch pension fund ABP.
On June 1, ABP, the third-largest pension fund in the world – with holdings of more than $400 billion – announced that it would divest from two Israeli companies for their role in the manufacturing of cluster munitions.
Aryt Industries Ltd., an Or Yehuda-based company which produces detonators through a subsidiary, Reshef Technologies. According to documents leaked by Wikileaks, in 2009 senior officials admitted some 80 percent of Reshef's business is with the IDF.
Ashot Ashkelon Industries Ltd., a small aerospace and defense sector manufacturer with less than $100 million in annual revenues, was targeted for divestment for its part in producing cluster munitions – Ashot is also a subsidiary of the government-owned Israel Military industries Ltd.
However, ABP has maintained a record of careful consideration in its venture into the divestment sphere. In February, the firm was the focus of media attention after it refused to follow in the footsteps of PGGM, another Netherlands-based pension fund which had publicly divested from five Israeli banks for their activities in the West Bank earlier in the year.
In response, ABP defended its decision to maintain its investments in the three Israeli banks, after consultations with bank management assured the Dutch pension fund that the banks were not in breach of international laws and regulations or the United Nations Global Compact.