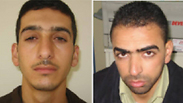 The Etzion Brigade, stationed to cover the area where three Israeli teens were kidnapped and murdered, reinforced its forces in recent day to increase their defense capabilities due to fear among security officials that the two terrorists suspected in the kidnapping case will maneuver to carry out an additional attack in the area.

In an exclusive interview with Ynet, the commander of the Etzion Brigade, Colonel Amit Yamin, confirmed those fears stressing that an attack by Amar Abu-Eisha and Marwan Kawasmeh could manifest itself as the murder of soldiers, civilians or even an indiscriminatory suicide bombing.

Investigations into the kidnap which resulted in the murder of Gil-Ad Shaer, Naftali Frenkel and Eyal Yifrach have yet to be concluded and security forces continue to search the West Bank for the two perpetrators.

Abu-Eisha and Kawasmeh are both from Hebron where security forces spent most of their time and resources trying to locate the teens before their bodies were found.

The whereabouts of the two suspects are still unknown despite hundreds of arrest and interrogations carried out by the Shin Bet and security forces across the West Bank in the last three weeks since the abduction.

Related stories:

Colonel Yamin recounted the brigade's action on the Friday morning after the kidnapping. "At 6am when I woke up I reported that two teenagers (reports of the third would follow soon after) still hadn't contacted their families. I rushed to their town which is located just hundreds of meters from (the base) and I personally questioned the friends of the teens."

"I understood that these were serious kids who wouldn't have disappeared for no reason. After a few minutes of talking with them, I left the meeting with an understanding that this was something serious," said the Colonel.

"My gut feeling told me that and I reported immediately to the division, the Shin Bet and the police: 'Real Test' (the military code for kidnapped civilians). I took pictures from their friends and sent them to all our forces in the field."

Colonel Yamin who previously served as the commander of the Lavi battalion in the Kfir Brigade and also in Maglan, praised the civilians from Gush Etzion who volunteered to help in the search.

According to Yamin, "They approached me at the end of the week before we found the bodies and asked to help."