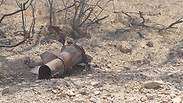 Rocket exploded in Eshkol Regional Council
Photo: Shem Levi
The Israel Air Force attacked three terror targets in the southern Gaza Strip on Saturday evening, following continuous rocket fire at southern Israel, the IDF Spokesman said.

"The IDF is ready and prepared to defend the citizens of Israel from any threat and will continue acting determinedly and for as long as it takes until calm is restored," a statement from the army said. "The Hamas terror organization is the address and carries the responsibility (for rocket fire)."

Earlier Saturday afternoon, a barrage of rockets and mortar shells was fired towards western Negev communities. Two rockets and four mortar shell exploded in the Eshkol Regional Council and one IDF soldier sustained light injuries from shrapnel. The soldier was evacuated to the hospital for further treatment.

In addition, a Color Red rocket alert sounded in Ofakim and the Merhavim Regional Council in south Israel, and shortly after a volley of rockets was fired towards Ofakim, a city relatively distant from the Gaza Strip.

The Iron Dome anti-missile defense system shot down one of the incoming rockets, and the other two exploded in open areas. Half an hour later, a Color Red siren was sounded in Eshkol and Hof Ashkelon Regional Councils.

Before Saturday evening's attack, the IDF refrained from responding throughout the night and most of the day. The last attack carried out by the Israeli Air Force took place at 8pm on Friday, when the IDF Spokesperson Lt. Colonel Peter Lerner confirmed that three targets had been struck in the south of the Gaza Strip, in response to over 20 rockets fired on Israel from Gaza on Friday.

Following the attack, southern council leaders warned residents to stay within 15 seconds from bomb shelters. The instruction was withdrawn in the morning.

The IDF has increased over the weekend the amount of interceptor missiles of the Iron Dome anti-missile defense system in the Gaza border area, and made changes to their geographical layout due to concern that the rocket fire would continue throughout the weekend.