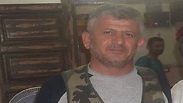 Three weeks ago, Mwafaq Badiyeh, Samir Kuntar's "right hand man," was killed when his car exploded. Lebanese newspaper Al Akhbar, that is affiliated with Hezbollah and the Assad regime, quoted officials on Saturday who claimed it was "Mossad agents" who assassinated Badiyeh.

Syrian opposition, however, said Badiyeh was killed in battles against rebels.

According to the report, Badiyeh was assassinated on June 17 when his car exploded in the Durin area, while driving on the main road between Quneitra and Damascus.

"Security sources" told the paper that Badiyeh's car's explosion was caused by an explosive device planted on his car by "Mossad agents."

These sources claim the assassination was a response to rockets fired from Syria to Israel in March, that the Syrian army and Hezbollah were responsible for.

Local sources told Al Akhbar that Badiyeh, of Druze descent, was a part of the military presence in the Quneitra district that was operating against Israeli targets in the Golan.

Syrian opposition websites characterized Badiyeh as the right hand man of Samir Kuntar, the terrorist who murdered four Israelis in a 1979 attack in Nahariya, among them the Haran family. Kuntar was freed from Israeli jail in a deal signed with Hezbollah in 2008 to retrieve the bodies of IDF soldiers Ehud Goldwasser and Eldad Regev.

The village of Hadar, where Badiyeh was born and resided until his death, is one of the only villages in the Syrian Golan Heights that remains loyal to Bashar Assad's regime, apart from Quneitra. Semi-military militias loyal to the Syrian president operate in this area. These militias also have ties with Hezbollah.