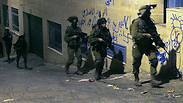 IDF soldiers in Hebron
Photo: EPA
An additional suspect was arrested for alleged involvement in the murder of Gil-Ad Shaer, Naftali Frenkel, Eyal Yifrach, according to Palestinian sources, who said Hussam Dufash was arrested Saturday night in Hebron by the IDF.

Unlike the other two kidnappers, Dufash was not away from his home in the days after the kidnapping. At the same time the third suspect was arrested, Israel announced relief from the harsh restrictions faced by residents of Hebron since the abduction.

The Coordinator of Government Activities in the Territories announced that as of Sunday morning Palestinian workers from Hebron were authorized to enter Israel. Additionally, Palestinians from the region would be allowed to enter Jerusalem during the month of Ramadan.

After the abduction of the three teens, Palestinians from Hebron were barred from entering Israeli territory.

Related stories:

Two weeks ago, it was cleared for publication that Amar Abu-Eisha, 33, and Marwan Kawasmeh, 29, from Hebron, Palestinian terrorists who previously served time in Israeli prisons, were the two main suspects in the abduction of the three Israeli teens .

Hamas officials in Hebron confirmed the two suspects were members, and said IDF troops have targeted the men's homes since the beginning of the operation.
Past of terror
Already at 18 years of age, Kawasmeh was arrested, tried and sentenced to ten months in Israeli jail, where he served his time until August 2004. He has since been arrested on four other occasions and has been held in administrative detention.

In his most recent investigation in 2010, he admitted to having been recruited to the Hamas military wing in the Hebron area in 2009. He was involved in military training in caves in the Hebron area, was active in obtaining raw materials for the production of explosives and assisted the organization in recruiting additional youths for Hamas activities. For these actions, he was imprisoned until March 2012.

Eisha was first arrested in November 2005, investigated and held in administrative detention until June 2006. He was arrested again in April 2007 and held for a short time.

Last week the IDF used explosives to demolish part of a home in Hebron that belonged to Eisha, fearing that he was in the house and could open fire on soldiers.

Some of the walls of the house were destroyed and a fire broke out but was quickly extinguished. No one was injured in the incident and the soldiers reported that they were scanning the remains of the house for weapons.

Elior Levy contributed to this report.