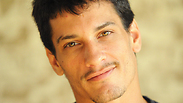 Idan Sharabi. 'Unbelievable and so rewarding'
Photo: Gadi Dagon
Dance shows seem to be all the rage nowadays. The incredible turns, jumps, twists, and well choreographed routines captivate audiences, and move them to tears, which is exactly the case with Idan Sharabi's routine, "Ours."

Choreographed by Sharabi and danced with Dor Mamalia, "Ours" recently won first place at the 28th International Choreographers Competition in Hanover, Germany.

The winning submission, 'Ours'

According to a report by The Algemeiner, Sharabi posted the win on his personal website. The report also says that the piece is an exploratory one, which experiments with space, form, and what it really means to be home.

Sharabi, as mentioned in the article, posted a thank you to his supporters via Facebook after the event.

"We are so lucky to get all these opportunities to share our work with so many different audiences," he wrote. "Winning with Dor, for the second time, was unbelievable and so rewarding."

Having won the competition, which took place on June 21-22, Sharabi will be taking home €6,000 (about $8,155) as a reward.

Reprinted with permission from Shalom Life .