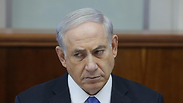 Prime Minister Netanyahu
Photo: Alex Kolomoisky
Prime Minister Benjamin Netanyahu took a strong stance against Palestinian rioters in comments made during a Sunday morning cabinet meeting saying, "There's no place in the State of Israel for those who throw rocks at police; there's no place for those who throw Molotov cocktails; there's no place for those who block roads or damage property."

"You can't enjoy social security payments and child subsidies on one hand and on the other hand violate the most basic laws of the State of Israel," said Netanyahu.

The prime minister insisted that Palestinian leaders use their influence to bring an end to riots in East Jerusalem and the West Bank. "I call on leaders of the Arab public to act responsibly by standing firm in the face of these riots in order to return calm to all of us."

Related stories:

"Those who don't respect the law, will be arrested and harshly punished," he warned.

Finance Minister Yair Lapid also addressed the issue of violent riots just before the cabinet meeting saying, "I spoke with the heads of the authorities. We must restore the calm and apply the law."

Lapid however, put part of the responsibility on Knesset members and government officials for incitement. "Ministers should not pontificate like talkbackers (Internet commentators). We must put out the fire, not fuel it. The extremists must not run the State of Israel."

Netanyahu also stressed the need for level-headedness amidst rising tensions with Hamas in Gaza. "Our experience shows that at these moments in time we must behave calmly and responsibly instead of being inflammatory and reckless."

However, the prime minister also noted that upon careful consideration, heavy-handed military action wasn't out of the question. "We will do everything demanded us of in order to return quiet and safety to the south," he told the Cabinet.

"Last night we acted against several Hamas targets in Gaza and the goal of all our actions is to return quiet and security to residents of the south," said Netanyahu noting that he has already met rocket fire with some amount of military retaliation.

Lapid echoed the sentiments of the prime minister saying, "Hamas needs to know that we will not remain silent over the rocket fire in the south. The full might of the IDF and the State of Israel will be activated if calm isn't restored to the south. It is unacceptable and we will not accept it."

Economic Minister and Bayit Yehudi Chairman Naftali Bennett whistled a different tune Saturday, when he criticized Netanyahu's stance on Gaza as too weak when considering the rocket fire bearing down on citizens of the south.

"The south's residents are not second class citizens, and we need to respond to rocket fire on Beersheba the same way we would've responded to rocket fire on Tel Aviv, rather than just waiting for rockets on Tel Aviv," Bennett said.

Bennett asserted that the strategy of "calm will be met with calm" harms the Israeli deterrence and allows Hamas to grow stronger from one round of hostilities to the next.

"Practicing restraint while (the other side continues firing at) women and children does not show strength. Practicing restraint while three children are executed is weakness," said Bennett.

From Syria to Wadi Ara, they're watching the residents of Beersheba running for cover, expecting a forceful response, and interpreting our inaction as a fear to act. Having a million people in shelters and safe rooms is not a situation that can continue," the Bayit Yehudi leader said.

Kobi Nachshoni contributed to this report.