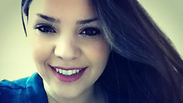 Israel Police said Sunday that 19-year-old Shelley Dadon, whose body was found in a car park in Migdal Ha'emek in early May, was murdered by her taxi driver, 34-year-old Hussein Yousef Khalifa, who confessed and reenacted her killing. The Shin Bet security service believes that the murder had a nationalist motive.

Dadon left her home in Afula on May 1, for a job interview in Migdal Ha'emek. Her body was found several hours later in a parking lot in the Ramat Gavriel industrial area. Police from Migdal Ha'emek found her body during a routine patrol at around 3pm on May 2. They saw stab wounds on the body, and, suspecting a murder, called in heavy reinforcements.

A police investigation showed that on the day of her murder, Shelly's father Yaakov drove her to the junction at Afula Illit, from where she was meant to travel by bus to Migdal Ha'emek. She was supposed to attend a job interview in the Ramat Gavriel industrial area, but never arrived. As far as police know, Dadon got as far as the city center, and then took a taxi ride to her death.

During the taxi ride, a row is thought to have broken out between Dadon and Khalifa. According to a government statement, Khalifa is believed to have driven Shelley to the abandoned parking lot on the outskirts of the industrial zone where he stabbed her 17 times and dumped her body, which was then found by police.

Dadon's father and other family members tried unsuccessfully to contact Shelly from 9 am on May 2. Eventually Yaakov Dadon went to the police, who asked him to describe his daughter. He was soon told that she had been found dead in Migdal Ha'emek, and taken to the scene, where he identified his daughter's body.

Khalifa, who was arrested on June 16, worked a taxi shuttle service for workers at factories in Migdal Ha'emek. The investigation showed that after allegedly murdering Dadon, Khalifa drove away from the scene, washed her blood from the car, and threw away her cell phone and purse near the Arab village of Beit Zarzir, in northern Israel. The motive for the murder has yet to be determined, but the Shin Bet maintains that it was a nationalist crime.

From the day of the murder, police sources claimed that the investigation was pursuing a nationalist motive, but later said that the direction had shifted to a criminal investigation. Due to suspicions of a nationalist motive, the Shin Bet played a key role in the investigation.

A day after the funeral, police arrested a number of Bedouin from the Lower Galilee after they had used a credit card belonging Dadon and Public Security Minister Yitzhak Aharonovich hinted during a condolence call at the family home that "dramatic developments" were expected. But after an investigation lasting several weeks, the six suspects were released as police accepted that they had simply found the credit card and had had no involvement in the murder.

Police continued their intensive investigation, checking, among other things, numerous security cameras belonging to businesses in the industrial area, and tracing Shelly's possible steps. At this stage, Ynet learned, suspicions were first raised that the taxi could be involved in her killing.

"Detectives turned their energies in this direction, checking dozens if not hundreds of taxis in the area," said a police official.

Ultimately detectives closed in on one particular taxi and driver, and that is where the investigation came to an end. The taxi was located, and, police sources said, although it had been meticulously cleaned, laboratory tests found a link between the driver and the murder.

"Even if he hadn't admitted and reenacted the crime," a police official said, "we were able to bring him to justice on the basis of these findings and other evidence collected during the investigation period."

The head of the Northern District, Major General Zohar Dvir, informed Shelly's parents of Khalifa's arrest shortly after he was taken into custody.

"I very much hope that this time it's final," said Yaakov Dadon, "and that this part at least will be behind us. Our lives will not go back to what they were, so at least the murderers are not wandering the streets."

Khalifa's remand was extended last Monday. But before the hearing began, he denied any involvement in the murder. "I did not kill (her)," he told reporters in the courthouse. "I do not know what they want from me. I worked in the area and they grabbed me. I have never seen this girl and I do not know her." He said that he had been working in the area for several years.

Yousef Khalifa, the suspect's father, denied the allegations on his son's behalf, and even claimed - contrary to his son's statements - that his son had not worked as a taxi driver for seven years due to problems with his sight.

"Maybe he was still registered with the taxi company as someone who works there, but he is living on disability," his father said. "He only leaves home once a week to go to the unemployment office.

"He would not harm anyone, if they told him, 'go away,' he would bow his head and say thank you. This is what he learned from his mother and me. I do not believe what they say about him confessing and reenacting the crime. It's nonsense. My son never breathed a word of a lie in his life. He is holy. My son is a coward, maybe they threatened him."