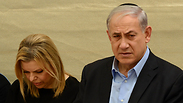 Netanyahu: There is no place for such murders in our society
Photo: Haim Zach, GPO
Prime Minister Benjamin Netanyahu sent his condolences to the family of the Palestinian teen who was kidnapped and murdered at the hands of Jewish extremists in response to the murder of the three missing Israeli teens who were presumed to be murdered. Meanwhile, Palestinian President Mahmoud Abbas urged the UN to intervene in the investigation.

"I wish to send my condolences to the family of the teen and promise them that we will find those behind this horrific crime and bring them to justice. There is no place for such murders in our society," the prime minister said.

Watch: Netayahu condemns killing of teen, PA incitement (צילום: אריק אלון)

Related stories:

Authorities on Sunday announced the arrests of several Jewish suspects in the death of Mohammed Abu Khdeir, who was abducted and killed last week, marking a major breakthrough in a case that has sparked violent protests in Arab areas of Jerusalem and northern Israel.

In a joint statement, Police and the Shin Bet said the suspects were arrested early Sunday. They remained in custody and were being interrogated by the Shin Bet.

Abu Khdeir's father blames murder on Jews (Video: Hassan Shaalan) (צילום: חסן שעלאן)

Police had investigated various motives for Abu Khdeir's death, including criminal or personal motives. But officials said Sunday they believed the killers acted on nationalistic grounds.

Visiting the families of the three Israeli teens, Netanyahu said he does not "differentiate between terror and terror." He promised to act firmly in the face incitement, and added that "I condemn calls of 'death to Arabs' just like I condemn calls of 'death to Jews… This is a sensitive time and I urge everyone to act responsibly."

Netanyahu referenced a Facebook post by a Palestinian teen who seemed to express support of the murder of the three Israeli teens, writing "3:0 for Palestinian and we're not even in the World Cup."

"I was horrified from the cruelty of it," Netanyahu said. "We will not allow radicals, no matter from which side, to set our region ablaze and shed blood. We can't accept it and we reject 'price-tags' like we reject to throwing stones and firebombs," the prime minister said, attempted to draw a parallel between Arab and Jewish violence of recent days.

Speaking with the families of Gil-Ad Shaer, Naftali Frenkel, and Eyal Yifrach, Netanyahu reiterated his past claim that the boys were kidnapped by Hamas and urged the PA to work to bring those behind it to justice.

"I promised the families we will continue to support them even after the days of mourning ends. We know who is behind the kidnap and murder (of the three boys) and we will get to them," the prime minister vowed.

He also urged the Palestinian Authority to help find the boys' killer, saying their murders embarked on their murderous mission from part of the West Bank under the PA's control.

"Just like we found Abu Khdeir's killer in a number of days… the PA has the responsibility to do everything they can to arrest their killers."

A harsh debate took place between Netanyahu and Foreign Minister Avigdor Lieberman during the weekly cabinet meeting earlier Sunday, with the two locking horns over Netanyahu's demand that ministers keep quiet regarding the political and security situation.

Netanyahu said: "Those who criticize are irresponsible, there are some who take advantage of the situation that has been created."

To which Lieberman quickly responded: "You are the last who can talk about the subject, you spoke to the press before you spoke with the cabinet.

"The things I say are part of my regular policy, I am not taking advantage of the situation. You said you would use an iron fist against Hamas and didn't stand behind that statement."
Abbas urges UN intervention
Abbas called Sunday on UN Secretary General Ban Ki-Moon to form an international committee to investigate crimes and violations committed against the Palestinians people, including the burning and killing of Abu Khdeir, Palestinian news agency WAFA reported.
During a meeting with UN Special Coordinator for the Middle East Peace Robert Serry, Abbas said, "15-year-old Mohammad Abu Khadeir was burnt alive, 16 Palestinians, including children and women were killed during the past two weeks, aside from the ongoing kidnapping attempts and assaults against children," alluding to the case of Abu Khdeir's cousin, Tariq Abu Khdeir, who was severely beaten up by Israeli police.
"We all saw through the media the face of Tariq Abu Khdeir distorted with injuries by criminal settlers' groups that must be considered illegal and illegitimate organizations," WAFA reported Abbas as saying.
"I have requested an international protection for the Palestinian people, giving the Israeli authorities refusal to prosecute these settler's groups, stressing the rise in settlers' attacks against Palestinians, which have increased by 41% since the first half of 2014."
The Associated Press and Attila Somfalvi contributed to this report