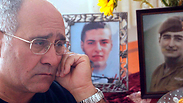 Haim Avraham with photos of his son and brother
Photo: Shaul Golan
Haim Avraham, who campaigned tirelessly for his soldier son after he and two comrades were abducted on the Lebanese border in 2000, passed away Sunday at the age of 65.

Avraham, who had been battling cancer, died surrounded by his family at his home in Petah Tikva. The funeral was held Sunday afternoon in the bereaved parents' section of Kiryat Shaul cemetery in Tel Aviv.

Benny Avraham, Adi Avitan and Omar Suweid were attacked by Hezbollah fighters during a routine patrol in the Mount Dov region in October 2000. For four years, the state and the soldiers' parents fought for the return of their bodies. They were eventually returned in a deal with Hezbollah, and were buried in Israel in January 2004.

Haim Avraham was born in Iraq in 1949, and moved to Israel with his family a year later. He was a staunch supporter of the Labor Party and worked at the Histadrut labor union for most of his life.

The three soldiers were kidnapped a few days before Yom Kippur when Hezbollah fighters attacked their vehicle and then took the bodies of the three soldiers back to Lebanon.

Haim led the struggle for the return of the boys, along with the parents of the other soldiers, even taking on the United Nations, which had reacted with indifference to the abductions. Exactly one year after the kidnapping, in October 2001, the army obtained information that the soldiers had been killed. The information was passed on to the families soon after, and in January 2004, the exchange with Hezbollah was completed with German mediation, returning to Israel the soldiers' bodies and captive businessman Elhanan Tannenbaum.

Haim's daughter Efrat stressed that her father also known many moments of happiness over the last 10 years.

"He saw me and my sister married, and has four grandchildren who were his whole world. There was joy in his life, and I'm glad I got to see him happy as well."

Haim was also a writer and poet, publishing a series of children's books and three volumes of poetry. As requested in his will, Efrat read some of his poems at his graveside.

"Dad was a giving man, he worked in the Histadrut and in this role helped a lot of people to unite and get what was due to them. Recently he was involved in union activity for Pelephone workers," Efrat said.

In recent years, Haim worked on a commemoration for his son and his comrades. "He built a synagogue in Benny's memory in Petah Tikva, helped build a playground in memory of the three boys," said Efrat.

She said that her father had maintained contact with the Suweid and Avitan families, and later with the families of other abductees, including the families of Gilad Shalit, Ehud Goldwasser and Eldad Regev. In recent weeks, despite his illness, he had closely followed the kidnapping of the three boys in Gush Etzion.

"He was glad they found their bodies, and it had not dragged out for long. If he had had the strength, I'm sure he would have visited the families to strengthen them before, and comfort them afterwards," said Efrat.