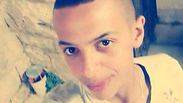 Mohammed Abu Khdeir
Photo: Reuters
Strong condemnations for the killing of a Palestinian teen by Jewish extremists were issued both within the Israeli government and by Jewish organizations from across the US, amid news of the arrest of six suspects in the kidnapping and murder of 16-year-old Mohammed Abu Khdeir, which officials believe was "nationalistic" in nature.

President Peres harshly criticized the violence committed by the suspects, calling the murder of the teen "reprehensible."

"If a Jew kills they will be put to the court like any other criminal, there is no privilege, the law is equal to all and all are equal before the law," Peres said. The president added that the country does not "distinguish between blood and blood. The murder of a child is reprehensible, regardless of the religion or nationality of the child."

Economy Minister Naftali Bennett also commented on the arrest of the suspects, and said a new law which bars terrorists from parole will also apply to the boy's killers.

"We will demand the Terrorist Law we put forward be applied to the boy's killers," Bennett said, calling the murder "heinous" and decrying it as "anti-moral and anti-Jewish."

In a joint statement, police and the Shin Bet said the suspects were arrested early Sunday. They remained in custody and were being interrogated by the Shin Bet.

Police had investigated various motives for Abu Khdeir's death, including criminal or personal motives. But officials said they believe Abu Khdeir's killers acted out of "nationalistic" motives.

Despite the gag order, Israeli media said a court had ordered the suspects remanded into custody for eight days. Police declined to comment. Israel's Channel 2 television said the suspects were far-right extremists, among them minors, from the Jerusalem area and a nearby Jewish settlement.

Finance Minister Yair Lapid also slammed the murder of Palestinian teen Mohammed Abu Khdeir, saying "we must all feel shame at the new recent events."

"Israel cannot allow itself to stay quiet in face of the murder of a young innocent Arab youth at the hands of Jewish murders. We cannot differentiate between blood and blood. Radicals' attempts to take the law into their own hands harm the social fabric of Israeli society, our international interests and our attempts to fight terror."

Defense Minister Moshe Ya'alon said in a Facebook post that he was "ashamed and appalled at the brutal killing of the boy Mohammed Abu Khdeir," adding that those behind the murder were "Jewish terrorists."

"The despicable killers do not represent the Jewish people and its values and they should be treated as terrorists. We will not allow Jewish terrorists from among us to disrupt the fabric of life among the different sectors in the State of Israel and to harm innocent people simply because they are Arab."

Samaria Chief Rabbi Elyakim Levanon said that the murderers of Abu Khudair "should be sentenced to death".

"Unfortunately, it is becoming clear that Jews are behind the murder of the Palestinian teen," Israeli media cited the rabbi as saying.

"The Jewish law has no mercy in the case of a brutal murder, whether that murder is of Jewish teens or of an Arab teen."

He further added: "Even at a time in which there is not an authorized court as the Sanhedrin, the court in Israel may impose a death sentence on those who committed a public crime. The same applies for the murderers who kidnapped and murdered the three teens – they must be sentenced to death."
US Jews: Outraged and horrified
Jewish organizations also broadly condemned the murder, with the Anti-Defamation League (ADL) saying it was "outraged and horrified" by the murder of 16-year-old Mohammed Abu Khdeir and commending Israeli police for arresting six Jewish suspects in connection with the crime earlier Sunday.

Abraham H. Foxman, ADL National Director, issued a statement, saying "we are outraged and horrified that this heinous attack is believed to have been carried out by Israeli Jewish extremists, who sought out and brutally murdered an innocent Palestinian teen.

"The Israeli authorities must fully investigate this crime and prosecute all those responsible for this murder to the fullest extent of the law."

Foxman stated that "only a full investigation and vigorous criminal prosecution will ensure justice for Mohammed Abu Khdeir, while sending a message to anyone else who might consider such an act that extremism, vigilantism and revenge killings will not be tolerated in Israeli society and are anathema to Jewish values."

B'nai B'rith International also condemned the murder of the Palestinian teen "in the strongest possible terms", and commended "Israeli police for acting swiftly to arrest those charged with participating in this vigilante act."

"There is no justification for this outrageous, despicable disregard for human life from any quarter. If found guilty, the six suspects should face the maximum prison time the Israeli judicial system allows," the statement said.

Robert G. Sugarman, chairman, and Malcolm Hoenlein, executive vice chairman, of the Conference of Presidents of Major American Jewish Organizations, called the attack "heinous", saying it was committed by "self-styled vigilantes."

"We condemn this attack, as we did the murder of the three Israeli youths by Arab terrorists last week and we extend our sincere condolences to the Khdeir family."

"We urge Israeli Arab and Palestinian leaders to work with Israeli officials to stop the violence that has been escalating over recent days", the statement said.

"We also urge that measures be implemented to stop all incitement to violence whatever and whoever the source. There has been much suffering this week and we pray that it will come to a quick end. All violations of the law must and will be thoroughly examined."

The Americans Jewish Committee (AJC) also released a statement, saying that it "commended Israeli authorities for apprehending the suspects in the brutal murder of Mohammed Abu Khieder, while expressing shock and dismay about those who perpetrated such a heinous crime against a Palestinian youth."

"That several Israelis are believed to be involved in this murder is despicable and shameful," said AJC Executive Director David Harris.

"By taking the life of a young Palestinian as an apparent act of revenge, they have desecrated God's name and, at the same time, done nothing to ease the immense suffering of all those who mourn the tragic murder of the three Israeli teenagers.

"By seeking to take the law into their own hands, they have undermined the authority of the state. And by the very nature of their crime, if convicted, they deserve the harshest possible prison sentence."

Abu Khudair's burnt body was discovered in a Jerusalem forest on Wednesday. Palestinians believe he was the victim of far-right Jews avenging the kidnap-killing of the three Israeli teenagers who disappeared while hitchhiking in the occupied West Bank on June 12, and whose bodies were found last Monday.

Associated Press and Reuters contributed to this report.