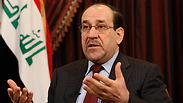 TEHRAN - Iran said on Sunday it supports Nuri al-Maliki's bid to stay on as Iraq's premier, but that it is ready to back any other candidate chosen by the Iraqi parliament.

Shiite-dominated Iran has said it is willing to provide Iraq advice and military assistance in the fight with the Sunni insurgents. However Tehran opposes a breakup of Iraq, denouncing it as an Israeli plot.

"We will never allow (Israeli Prime Minister Benjamin) Netanyahu's dreams about the disintegration of Iraq and the region to come true," Deputy Foreign Minister Hossein Amir-Abdollahian said on Sunday.

He added that Iran had warned Iraq's Kurdish leaders against separatism, saying it was "in nobody's interest." Netanyahu expressed support for the idea.

Amir-Abdollahian also criticized the United States for doing "nothing concrete to fight against terrorism."

"At best, the behavior of the United States over the past three weeks regarding Iraq has been suspect. We see no need to cooperate or have talks with the United States about Iraq," he said.

In addition, he said the "role of Saudi Arabia in the events of the region, including Syria and Iraq, is not positive."

Maliki's "State of Law coalition won first place in the last legislative elections... (and) any decision that is taken in Iraq and has the support of parliament has Iran's backing," he said.

"If Mr. Maliki is chosen as prime minister, we will work hard together. If another person is chosen by parliament, the Islamic Republic of Iran will also support them. It's an internal affair for Iraq," he said.

The Iraqi parliament is to convene on Tuesday to elect a speaker, president and prime minister.

Maliki, a Shiite, has been prime minister since 2006 and last week vowed to "never give up on" his quest for a third term, despite critics blaming him for steering the Shiite-majority country towards all-out sectarian war.

Shiite-dominated Iran has said it is willing to provide Iraq advice and military assistance in the fight with Sunni insurgents who have now declared an Islamic caliphate.

The Islamic State (IS) militants overran large chunks of Iraqi territory last month and have declared their own caliphate.

The militant offensive, which led Iraqi troops to abandon their posts, has emboldened Kurdish leaders to press for independence of their autonomous northern region.